…Orders serving political aspirants to resign
By Adeola Badru
IBADAN-GOVERNORSHIP aspirants on the platform of the All Progressives Congress (APC) in Oyo State are to emerge through indirect primaries,as disclosed by Governor Abiola Ajimobi.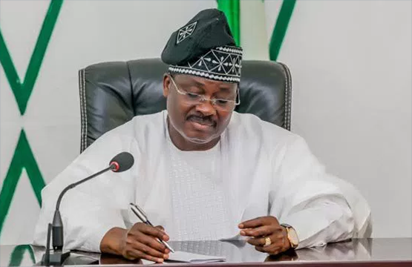 This was the fallout of a closed-door meting held with the governorship aspirants at the Government House on Saturday, wit a view to select the party's flag bearer in the forthcoming governorship election in the state.
The governorship aspirants numbering twenty-six stormed the Agodi Government House as early as 8 'o clock in the morning following the governor's call to have a closed-door meeting with them and the party leadership in the state.
Describing the meeting as cordial, Ajimobi hinted that the meeting provided an opportunity to rob minds with the aspirants as one family in determining the fate of who would emerge as the party's flag bearer.
According to him: "It was a family meeting and spoke frankly with ourselves on the need to for unity and the progress of the party."
"We also express appreciation to the commitment of the aspirants in galvanising the party; in expanding our horizon, in making sure that through the show of force, as they will say in the military, we have been able to establish that APC is the only party in Oyo State. All others ate subsidiary parties."
"Therefore, when you have this position, there is the tendency for people to begin to fight for offices and we now appealed to all of them that we should work as one family."
"Whatever they prefer either direct or indirect primaries or consensus, the leadership of the is ready to accept. It is a democracy and we want to ensure that we practise democracy in the truest sense of the word."
The governor added that: "I must report back to you that we are happy about the response we got our people (aspirants). They are very happy with us and they all agreed that we should all come together and have indirect primaries. And for me, that spirit of brotherhood was very pronounced in the meeting."
However, the governor has ordered all serving political aspirants in his cabinets to resign. This he said, would allow them to focus more on the various political consultations.
He noted that some people do not have time for the job, adding that he wanted people who have focus on the job they have been appointed to do.
"Tendering their resignations will give them the opportunity to concentrate in vying for whatever they are vying for. And it will also afford others the opportunity to serve in government. You can't eat your cake and have it. Government is not about gambling. We don't want gamblers in our government," Ajimobi added.