By Dayo Johnson
Osogbo – ABOUT 1.2 m voters are expected to elect a new governor today during the fifth governorship election in Osun state
The incumbent governor, Rauf Aregbesola had served a two term of eight years
Only five of the forty eight candidates participating in the election are actually on the race while other are participants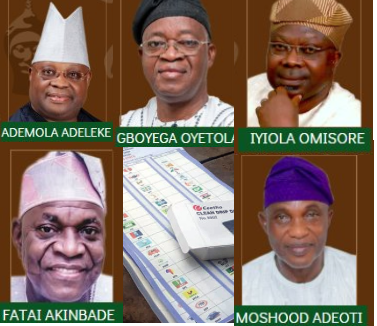 They include Gboyega Oyetola of the All Progressives Congress (APC), Ademola Adeleke of the Peoples Democratic Party (PDP), Iyiola Omisore of the Social Democratic Party (SDP), Fatai Akinbade of the African Democratic Congress (ADC) and Moshood Adeoti of the African Democratic Party (ADP).
Independent National Electoral Commission (INEC) in the state said the credible register of voters was made up of 807, 598 (48%) male and 874, 897 (52%) female voters.
The Resident Electoral Commissioner (REC), Mr. Segun Agbaje said while speaking with newsmen that about 1,246,915 voters had collected their permanent voter cards (PVCs), representing the number of eligible voters across the state. "Don't forget that those without PVC cannot vote," he said. "The cards not collected are being kept in our strong room here in Osogbo.
Agbaje said there was "no truth in the rumour that the commission forbade voters from going to voting units with their smartphones and cameras.
"What we said was that no phone will be allowed into the voting cubicles. This is part of efforts to curb the embarrassing menace of vote buying. "We are of the strong opinion that once it becomes difficult for voters to prove who they voted for in order to be paid by unscrupulous politicians, it will become unattractive for politicians to promise cash in return for votes.
"We didn't say people should not come to polling units with their phones. That was just a deliberate misrepresentation of our position by those who want us to change our stand on it.
"But as at this moment, we are resolute on our position that no phone or camera will be allowed to follow any voter into our cubicle.
"We urge Nigerians to bear with us. 'It is not too much sacrifice to do without our phone for the two or three minutes we will be voting in order for us all to ensure the credibility of the entire process.
"It is not only INEC that is being embarrassed by vote buying, the whole Nigeria and Nigerians are being embarrassed, and we must be ready to end this national embarrassment."
Meanwhile, voting in many of the centres visited in Ede and ile ife were peaceful while those on queues as at 10am have voted.
The turn out was impressive in all the centres visited.