By Chinonso Alozie
OWERRI—FOLLOWING the judgment of the Owerri High Court, nullifying the impeachment of the Imo State Deputy Governor, Eze Madumere, the State Governor, Rochas Okorocha yesterday said parties involved in the matter had gone to appeal.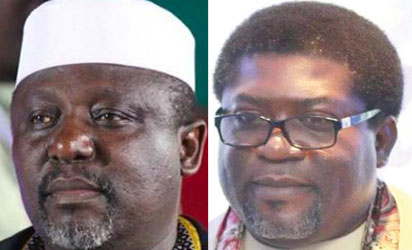 Okorocha revealed this through a statement to newsmen in Owerri, by his Chief Press Secretary, Sam Onwuemeodo.
The governor argued that it was wrong for Madumere to sign a release as deputy governor, 48 hours to the primary election under the All Progressives Congress, APC, even when he (Madumere) is contesting for governorship.
The statement read: "The judgement on the impeachment of Prince Eze Madumere was delivered on Tuesday, September 25, 2018.
"We had withheld reaction to that judgement because we needed to read it and acquaint ourselves with the crux of the judgement.
"We have read it and the crux of the judgement delivered by Hon Justice B.C. Iheka is that the Chief Judge of the state constituted the seven–man investigation panel outside the seven days approved by law
"We hold nothing against the trial Judge and we shall continue to hold the Judge and the Judiciary in general in high esteem.
"We also want to inform the general public that all the relevant parties in the matter have filed their appeals against the judgment and the motion for stay of execution has also been filed.
"We have also read the press statement issued and signed by Prince Madumere himself, which he issued and signed as deputy governor few minutes after the Judgement. The fact remains that Prince Madumere is confused. He does not know what he wants.
"He signed the statement as deputy governor and at the same time, is parading himself as governorship aspirant on the platform of APC and of course, about 48 hours to the party's primary for the governorship.
My sin against Madumere  —Okorocha
"And we want to state clearly that the only offence Governor Okorocha committed against Madumere who he had carried on his back like a baby for decades and made somebody, is that he did not anoint him as his successor.
"And you now ask whether it is compulsory that every deputy governor must succeed his boss as governor. And if the answer is  no, then Madumere should count his teeth with his tongue."