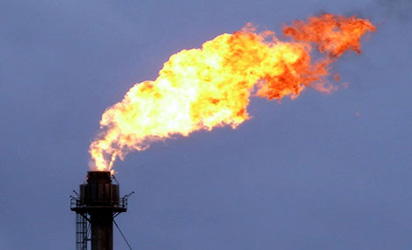 *Gas flare
By Ediri EJOH
THERE are indications that the International Oil Companies, IOCs, and their indigenous counterparts continue to flare commercial gas, despite sanctions imposed by the Federal Government.

Sweetcrude's compilation, based on available industry data, showed that about 4.498 trillion Standard Cubic Feet, SCF of gas was flared between 2008 and 2017 in Nigeria.
It showed that the government has not been able to completely eliminate gas flaring, mainly as a result of many factors, especially limited funding of gas projects and imposition of meager penalty against defaulters.
Meanwhile, the Nigerian Extractive Industries Transparency Initiative, NEITI, in its audit report on Nigerian Oil and Gas Audit, disclosed that in 2008, the Federal Government had set a penalty of $3.5 per 1,000 SCF of gas flared by the oil companies, adding, that the companies did not comply with the directive.
It also stated that the Federal Government had over the years, been unable to collect the $3.5 per 1,000 SCF, explaining that it was still collecting the old N10 per 1,000 SCF penalty which was supposed to run from 1998 to 2008.
The National Gas Policy stated, "While gas flaring levels have declined in recent years, it is still a prevailing practice in the petroleum industry. Billions of cubic metres of natural gas are flared annually at oil production locations, resulting in atmospheric pollution severely affecting host communities.
"Gas flaring affects the environment and human health, produces economic loss, deprives the government of tax revenues and trade opportunities, and deprives consumers of a clean and cheaper energy source."
The ministry said under the gas policy, the government intended to maximise utilisation of associated gas to be treated for supply to power generation or industry.
"To ensure that flared gas is put to use in markets, the government will take measures to ensure that flare-capture and utilisation projects are developed and will work collaboratively with industry, development partners, providers of flare-capture technologies and third party investors to this end."
The policy added, "Consequently, the low penalty has made gas flaring a much cheaper option for operators compared to the alternatives of marketing or re-injection. The intention of government is to increase the gas flaring penalty to an appropriate level sufficient to de-incentivise the practice of gas flaring, whilst introducing other measures to encourage efficient gas utilisation."
However, a legislator, Hon. Ehiozuwa John Agbonayinma said, ''The DPR must rise to its responsibilities. Sanctions must be implemented to curb the menace of impunity and corruption in the industry."