By Daud Olatunji
ABEOKUTA-The All Progressives Congress, governorship aspirant in Ogun State, Dapo Abiodun, has advised APC members to insist on direct primary to select the party candidate for the 2019 governorship polls in the state.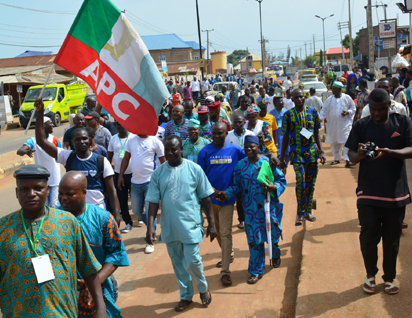 Abiodun who hails from Iperu town in Ogun East Senatorial district, urged party faithful to fight for their freedom and resist the idea of indirect primaries being muted by the governor of Ogun State Senator Ibikunle Amosun.
The Oil magnate gave the advice during a tour to Abeokuta South, Imeko Afon and Yewa North local governments with members of the party.
Abiodun appealed to party members across the state not to give up on their clamour for direct primaries as recommended by the national leadership of the party, assuring them that there is no going back until the will of the people prevails.
The aspirant recalled that he has supported Governor Amosun to achieve his ambition to govern the state, but wondered why Amosun is unwilling to reciprocate same gesture.
"I was one of the people who went to plead for the incumbent governor to be allowed to govern the state in 2007 but we failed, after that election we realise we didn't do stomach infrastructure then we try again in 2011 with 11 state house of Assembly members around the state which I personally financed.
"I wonder where I've wronged the governor with my ambition, with all the support I gave him then, not that he gave me any post or my loyalist which I never questioned him for," Abiodun said.
He described the plan to elect flag bearers of the party through the delegate system as an indirect admittance of failure on the part of the outgoing governor adding that a government that is really in touch with the people would not be afraid of putting its fate in the hands of the electorates.
He promised to return the party to the people if he is elected the APC aspirant to run along with other parties' aspirants for 2019.
"I promise to return the party to the people because the party belong to the people and not individual or a family party that some people feels they should have control ",he said.
He also urge the party faithfuls to use the ongoing continuous membership registration of our great party via the internet to drive the membership of the party.
Subscribe for latest Videos