In what has been described as a revolution in Edo State's housing sector, the first set of homeowners in Governor Godwin Obaseki's affordable housing project, Emotan Gardens, will move into their property at the end of the year.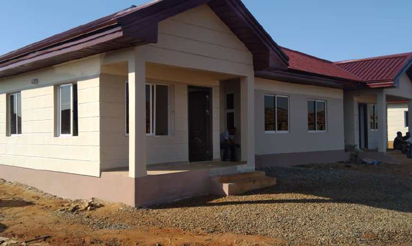 Executive Chairman, Edo Development and Property Agency (EDPA), Isoken Omo, disclosed this in a chat with journalists and assured prospective buyers that 86 units of the houses, which constitute the first phase of the project, will be delivered before the end of 2018.
She said, "Emotan Gardens is a 1, 800-unit gated housing estate which will be done in phases and clusters. The first phase is actually a show phase with about 86 units in it. When it is finished, people can live there. While they are living there, the other phases will be built. In the end, everything will be joined together to become a full estate."
She explained that the construction of the 86 units is ongoing and assured that it will be ready at the end of the year, noting, "By then people will live there. There will be infrastructure and not just the houses will be ready. We will have roads, lawns, water and electricity there."
According to her, "The sales for the properties opened at the Edo National Association Worldwide (ENAW) convention, in Toronto, Canada. All the slots are available. Because it is being delivered in phases, it will work in two ways so that we will deliver on our promise. For example, if you don't have all the money, and then deposit some amount and tell us when you want it ready, it gives us enough time to build up capital."
On the first phase, Isoken explained, "We have different types. We have four 2-bedroom in a row; 3-bedroom row of houses, 2 and 3-bedroom semi-detached; 3-bedroom semi-detached; blocks of flats; 4-bedroom stand-alone bungalows, terrace houses, 3-bedroom with a maid quarters.
"We have commercial plots and residential plots. Within the commercial plot, we have shopping malls. Within the estate, we have made provision for school, hospital, police station and all those things you need in a community."
Explaining that there is provision for those who want to build for themselves to buy plots of land, she said, "You can buy a plot of 450 sqm land or 900 sqm land. There is a design guide but it is not rigid. The guide is to ensure homogeneity."
On the prices for the houses, Isoken said, "The house starts from N5.7 million for the cluster of 2-bedrooms and it goes up to N7m, N8m, N9m and so, according to the housing type. But N5.7m is the entry price. We expect 25 per cent down payment at expression of interest, and then you complete the necessary forms, including the Know Your Customer (KYC) form.
She explained that the KYC form is to "ensure the money is not laundered, and that it came from a clean channel. The onus is on us to check that to ensure we don't fall foul of the laws. After this, we process the form, then you pay the deposit and we send you your Letter of Offer with terms of payment.
"There are different payment options. We have outright purchase; 18-month payment plan for payment in tranches, and mortgage arrangement. We are looking at different mortgage options that people can tap into which will be affordable."
Isoken assured prospective buyers that the model house and other houses on that row are nearly completed, while painting work is ongoing, adding, "The inside of the model house is ready. We are painting others on that row. Some are at the roofing stage, others are at the block stage. By December when we are ready to deliver, all of them will be ready. At the same time work is ongoing on the greenery."
Subscribe for latest Videos