…over 1,700 PHC workers shortlisted for capacity building
The Edo State Governor, Mr. Godwin Obaseki, has said 174 health workers have been trained in selected Primary Healthcare Centres across the state with 1,700 others shortlisted to partake in the exercise under the administration's Health Improvement Programme (HIP), which is a coordinated effort to reposition primary healthcare delivery.
https://www.vanguardngr.com/2018/09/pinnick-hails-obasekis-sports-devt-initiatives-as-edo-sports-comm-gets-interim-boss/
Obaseki said this during the inspection of the Primary Healthcare Centre, Warrake, Owan East Local Government Area, Edo State, reiterating that his administration is focused on improving primary health care in the state.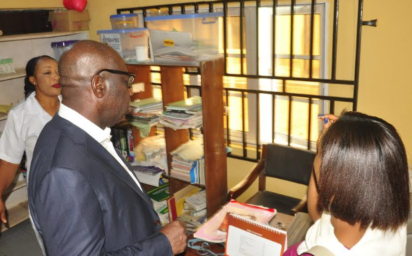 Obaseki said his administration is pursuing the HIP to train and retrain health workers for effective management of the health care system, adding, "So far, we have trained 174 primary healthcare workers and we intend to train about 2,000 of them to manage the system."
He said the programme also makes provision for rehabilitating the physical infrastructure in the PHCs through which electricity and water supply will be provided, adding, "Information Communication Technologies (ICT) tools will be used to capture patients' data, with a system to administer drugs and bill patients."
He said the state government is already carrying out the pilot phase of the renovation work in PHC, noting, "We intend to have at least one primary health care center in each local government area which will help us study the workability of the programme before rolling out the proposed 200 primary health care centres across the state. When that is achieved, it means we will have one primary healthcare centre per ward."
The governor said his administration is putting in place a health insurance programme which will be all-encompassing and will improve access to affordable health care in the rural areas. "We have a bill before Edo State House of Assembly (EDHA), which will soon be passed into law to ensure rural people buy into our health insurance scheme," he said.
He said a team has been set up to work out the operational modalities for the programme, as in the next few months, the state will launch its health insurance scheme.
Monitoring and Evaluation Officer in the State Ministry of Health, Mrs. Pamela Archer, commended the Governor Obaseki-led administration for focusing on improving healthcare, noting that the Warrake facility already has a billing system in place to reduce fraud. "Cases treated include immunisation, malaria, family planning, maternal and child health, among others," she added.