By Omeiza Ajayi
ABUJA – Stakeholders of the All Progressives Congress APC in Taraba state have dismissed reports of a division within the party, saying though there could be major points of disagreements among the party elites, it would not negatively impact on the successes of the APC in the 2019 General Elections.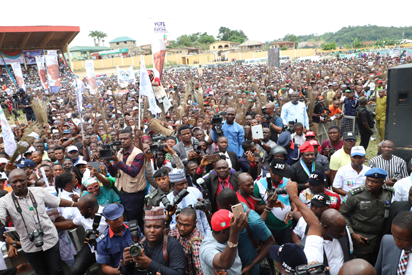 The stakeholders who spoke Thursday through a coalition of political groups, the New Taraba Agenda noted that the members of the APC who constitute its hub are not divided.
Leader of the group and former federal lawmaker, Hon. Kabi Jalo stated this at the national secretariat of the party where the coalition purchased a governorship nomination and expression of interest forms for its principal, Aliyu Omar.
"The elite might be divided but we can tell you that the people who form the hub of the party in the state are not divided. The division among the elites is inconsequential to our people", said Jalo.
He lamented that the state had been through a very turbulent period due to what he said was poor leadership and which would be corrected by Mr Omar.
According to Jalo, most delegates from the 168 wards of the state had deliberated on the choice of governorship candidate for the APC before finally settling for Omar.