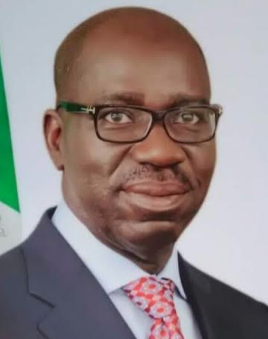 Obaseki
The Edo State Governor, Mr. Godwin Obaseki, has congratulated Alikah Joseph Ehiagwina, the 2018 winner of the Nigerian National Petroleum Corporation (NNPC) Science Quiz Competition in the state.
The governor, in a statement, said that the impressive performance by Ehiagwina, is a call on other Edo youth to apply themselves vigorously in socially approved and rewarding ventures to make their parents and the state proud.
He reiterated his administration's relentless effort at revamping the education sector through time-tested policies and teacher empowerment programmes as well as the provision of enabling environment for students to excel.
Alikah, a student of Don Bosco Science Academy, Ukhun, in Esan Central Local Government Area of Edo State, emerged winner of the state category of the 2018 NNPC Science Quiz Competition with a total score of 83%.
Obaseki assured, "We will continue to provide the needed support for Edo children such as Alikah to excel academically.
"His performance at the state level of the competition is encouraging and goes to show that, when given the opportunity, our children can compete favourably with their peers anywhere in the world.
"His exploit also shows that much could be achieved through sustained collaboration with all stakeholders in the education sector and government's insistence on standards."
He urged the student to make the best of the opportunity offered by the NNPC and return home with the prized trophy.
Alikah Joseph Ehiagwina will represent Edo State in the NNPC Science Quiz Finals which is scheduled to hold on Tuesday, October 8 at the NNPC Amphitheatre in the Federal Capital Territory (FCT), Abuja.