By Samuel Oyadongha & Emem Idio
YENAGOA — SENATE President and presidential aspirant of Peoples Democratic Party, PDP, Dr Bukola Saraki, has said the country was at a crossroads and needs a president that will unite the country and give everyone a sense of belonging.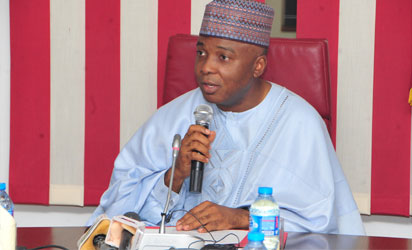 Saraki stated this, yesterday, in Yenagoa, the Bayelsa State capital, while addressing a crowd of party executives, chieftains and members of the PDP as part of his nationwide campaign ahead of the October  6 PDP presidential primaries.
The Senate president, who had earlier paid a courtesy visit on Governor Seriake Dickson in Government House, was accompanied by the three senators representing Bayelsa State in the Senate and some other members of the  House of Representatives from the state.
Saraki, while soliciting the support of the delegates from the state at the presidential primaries, lamented that the people were feeling alienated because of the shortcomings of the present leadership and promised the people of the state that he will ensure that they get a fair share of their rights and privileges and liberty to develop their resources according to their own terms.
He said: "We want a president that will unite Nigeria, a president that will ensure that everybody is on the table and on equal basis, that everybody is on the front row not some at the back. A president that has the capacity, that is able, and digital compliant.
"In his remark, Governor Dickson said the time had come for the country to move away from the evil of bigotry and indeed a leadership founded on  feelings of sectional superiority.
He called for a regenerated Nigeria where all Nigerians could be trusted and appointed into sensitive positions irrespective of ethnicity and region.