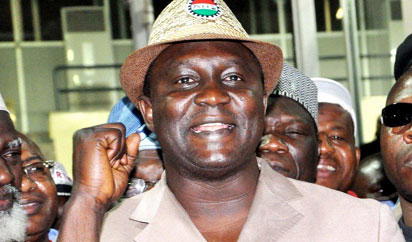 Wabba
The Nigeria Labour Congress (NLC) says Nigeria will need $3 trillion in the next 26 years to bridge the infrastructural gap in the country.
Mr Ayuba Wabba, NLC president said this at the Infrastructural Summit of the 40th Anniversary of the National Union of Civil Engineering Construct, Furniture and Wood Workers (NUCECFWW) on Thursday in Abuja.
The theme of the anniversary is, "Role of Infrastructure in a Developing Economy: A Case Study of Nigeria.
He said that the importance and centrality of the country's infrastructural development as a nation could not be overestimated.
He said this had become important as Nigeria had many infrastructural deficits that affect various sectors of the national economy.
Wabba said such sectors included the energy, transport, railways, roads, inland waterways, education, housing, agricultural sector and the information communication technology, among others.
According to him, the World Economy Forum states that every dollar spent on infrastructure has a potential to generate between five to 10 per cent of economic growth and therefore, this is very central and key.
"This potential is important as it has been estimated that Nigeria needs at least three trillion US dollars in the next 26 years to bridge the infrastructural gap in the country.
"As this will transform our vast potentials into concrete social economy tangibles and this will also require about 100 billion dollars capital investment annually,"he said.
He said that it was, however, regrettable that Nigeria had not been able to attain its potentials as it concerns provision of infrastructure in the country.
He said for instance, if you look at our population of closed to 200 million, that we are still struggling to keep our electricity generation at less than 4000 megawatt, while South Africa's was at 55million megawatt.
"No doubt, that is why our industries cannot operate at full potential and there is no way we can address the challenging issue of unemployment in the country.
"So, infrastructure is the key to addressing multifaceted development, from the issues of poverty, unemployment and insecurity.
"Therefore, your union is very central and that I am very delighted that you chose this theme to look at infrastructural development in our country and how to work the talk,'' Wabba said.
Mr Amechi Asugwuni, National President of the Union, said for the Nigerian economy to thrive sufficiently, there was need for critical infrastructure.
Also, Prof. Stephen Ocheni, Minister of State, Labour and Employment said that the theme for the summit was apt as current policies of the present administration was geared towards the infrastructural deficits in the country.
Ocheni noted that infrastructure is key to national development as it would address the issue of unemployment, security, among others.
"The lack of infrastructural development in the country was due to inappropriate policies and lack of continuity by the past administrations.
"I want to assure you that the present administration attaches great importance to capital projects and is determined to continue with viable projects and so we are vigorously pursuing it, '' he said.