…130 million Nigerians have no access to improved sanitation
By Chioma Obinna
A new national Survey has shown that about 130 million Nigerians live without access to improved sanitation even as it revealed that Nigeria loses N455 billion (US$ 1.3 billion) annually due to poor sanitation.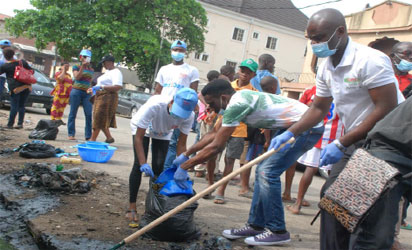 The sample survey entitled: National Outcome Routine Mapping, NORM, 2018, carried out by the National Bureau of Statistics, NBS, Federal Ministry of Water Resources and the United Nations Children's Fund, UNICEF, also found that Nigeria has remained in the list of top 5 open defecation countries in the world for the past 15 years, moving from 5th place in 2003 to 2nd place in 2015.
The report notes that only 1 in 4 Nigerians have access to basic toilets.
Speaking on the report, UNICEF, Chief of WASH, Mr. Zaid Jurji explained that out of Nigeria's 198 million populations, 47 million defecate in the open.
This, he said makes Nigeria number one African country with highest number of people defecating in the open with economic consequences.
"Open defecation costs Nigeria over US$ 1 billion a year and these losses are due to premature deaths, healthcare costs, and reduced time and productivity," Jurji said.
He explained that the N455 billion (US$ 1.3 billion) Nigeria losses annually due to poor sanitation constitute 1 percent of the country's GDP, adding that this could be reversed with an estimated investment of N959 billion for WASH.
On the economic gains, he said: "If Nigeria loses NGN 455 billion each year due to lack of sanitation and needs only N95.9 billion per year to eliminate open defecation, the economic gains could be about N359.1 billion or US$ 1.026 billion each year.
"Government should initiate bills/laws to promote sanitation and take urgent action to implement Open Defecation Roadmap.  ₦ 234 billion is needed for the realization of Open defecation in Nigeria by 2025. "
The WASH expert stressed the need for provision of toilets, lamented that without toilets, people are forced to defecate in the open leading to exposure to diseases such as diarrhea, cholera, viral hepatitis, typhoid, polio and dysentery,
The WASH specialists further explained that 122,000 Nigerians, including 87,000 children under 5 die each year from diarrhea while nearly 90 percent is directly attributed to lack of WASH.
"Open defecation is seen as a social stigma in many countries including Nigeria. It also results in increased risks of insecurity and lack of privacy.  Vulnerable groups, including women and children are at high risks of gender-based violence, child abuse, and psychological trauma."
He further blamed continued poor sanitation in Nigeria on inappropriate technology options to meet various geographical conditions and lack of appropriate social mobilization.
Others he listed includes; lack of advocacy to stimulate demand generate and behavior change, weak institutional arrangements and limited technical knowhow among others.
Subscribe for latest Videos