By Tony Ubani
AS the zero hour approaches swiftly for Thursday's elections into the NFF Executive Committee in Katsina, incumbent Melvin Amaju Pinnick has vowed not to contest any elective office in Nigeria if he gets a second term at the NFF Polls.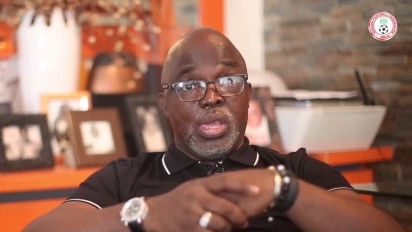 Pinnick who has gone through dangerous storms to let Nigerian football walk with its nose in front said that he would not attempt any other elective position in Nigeria.
"My brother,  after the Katsina election it 'll be a final bye bye to any form of election in Nigeria.  Pressed to know why, the former Chairman of Delta FA and  Executive Chairman of Delta Sports Commission said "a hunter does not narrate all that he encounters in his hunting expedition".
However, the 1st Vice President of CAF said he came out for a second term to steady the transformation of Nigerian football in terms of vision, youth development and more importantly to actualize  the drive for the NFF to be self-reliant.
"There is need for continuity for Nigerian football to prosper. There is this uncommon relationship between the Corporate World and our executive built on transparency and integrity.  Before now, this relationship was non-existent. It is all for the good of the game that we want to show the light so that others coming after us will find their way.  Once a structure is established, it becomes easy to manage",  the NFF President said.
Pinnick who helped to unseat legendary and dreaded former CAF President Issa Hayatou and Install Ahmad from Madagascar has broken the gate in CAF and Zurich with his relationships in the high-wire politics of global football. Nigeria and Nigerians now have a voice and positions in these hitherto sacred organizations.
Pinnick slugs it out with former NFA Chairman, Alhaji Aminu Maigari, ex-international and former member of NFA, Taiwo Ogunjobi and Mr. Chinedu Okoye, proprietor of amateur league club, Bimo FC.