•Why APC cannot implode
By Omeiza Ajayi
Journalist, lawyer and politician, Prince Tony Momoh, the Yerima of Auchi Kingdom, served as Minister of Information in the General Ibrahim Babangida military regime and was subsequently National Chairman of the defunct Congress for Progressive Change, CPC, one of the legacy parties that merged in 2013 to form the now ruling All Progressives Congress, APC. Now, he is Chairman, Governing Council of the University of Jos.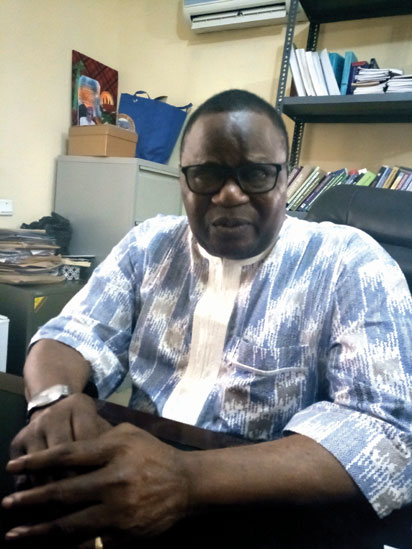 In this interview, he speaks on several national issues bringing to the fore the integral role of the media in the pursuit of national interest by the functionaries of government, asserting that President Muhammadu Buhari has done in three years what the People's Democratic Party, PDP, could not do in 16 years. Excerpts:
What is your take on comments that the APC is heading for implosion?
When you see people talking about the APC imploding…the APC cannot implode. APC is a political association. We cannot go back. I cannot say I am taking my president, being CPC, back to CPC because there is no CPC anymore. There is no ACN or ANPP anymore. So, if, let us say for instance, Tinubu says he is pulling out, he is going to join another party or, if he says he is going back to ACN, he would have to start forming ACN as a political association. He would apply to INEC, the commission would register them and they would start from Ground Zero. That is what it is.
Don't you see the PDP and CUPP as a threat to APC?
They are not a threat to APC and if I must give them a free advice, if they want to be a threat to APC, then all of them should dissolve themselves and then become a political association; apply to INEC to be registered as a political party. Then they become a political party, strong enough to be a threat to the APC. PDP itself can be a threat. Any of those 39 parties can be a threat but when all of them say they are coming together in an alliance to be a threat, they are not an issue and nobody will listen to them because we know that on the eve of deciding who gets what, they will explode.
Some members of the defunct CPC now in the APC have been grumbling about being marginalised…
Well, why did the so-called New PDP leave? Is it not because they said they had not been well taken care of? There are about 73 million voters, now it is 84 million voters. If, let us say, out of that we have 13 or 15 million APC members and they now go for elections and we win, it is expected that people would want certain considerations but it is not everybody who is a member of a political party or an interest group in the political party that will get what he or she wants. The government is there to create an environment where those who have skills can grow their skills. There must be peace, opportunities outlets to be what you can be. Those are the issues. You create the environment so that people can grow.
Do we now say your party has a faulty reward system because some founding members allege marginalisation saying those who joined APC on the eve of the elections are now the ones in the corridors of power?
It depends on the volume of reward and your perception of reward. If you think that reward has to do with someone giving you money every month, I think it is misplaced. The fact is that you look at the party constitution in doing everything you want to do. When we started in APC and people were coming in and we wanted people to come in, we held a special convention to grant waivers. So, if you join today, you can enjoy all the facilities today. So, that being the constitutional provision, you cannot discriminate against people who are just coming.
Would you say the president has done well to earn himself a second term in office?
The fact is that he has done more than enough to earn himself a second term because it is better late than never. If,  Abiola had had an opportunity to become the president of Nigeria in 1993, we wouldn't be where we are now. If Buhari had been president since 2003 when he first contested, we wouldn't be where we are now. From 1999 to 2015, we saw what the PDP did. They did not grow this country even though there were a lot of opportunities to grow this country. In 2005, General OlusegunObasanjo moderated a Constitutional Conference, which recommended a lot of things that were thrown away because of the failure of Third Term. The baby was thrown away with the bath water.
Everybody is talking about his own interest. Look at the National Assembly and the state assemblies. Look at the governors' position. There is no where in the world where you have democracy before development. It is only in Nigeria. Democracy is always a luxury of development. Democracy is an opportunity to talk because you have grown. If you look at the developed world, they have development in the front and they take that quantum of freedom to grow. Democracy has to do with freedom. So, when people say dividends of democracy, they can only talk of dividends of democracy in the area of how much freedom there is to grow the environment. Democracy is not about building hospitals, roads and all that. If you look at our constitution, roads, hospitals, water are expectations of governance because the constitution says government is there to ensure the security and wellbeing of the citizens. So, building roads is an expectation of governance, that is why they are there. If you cannot do roads, build schools, grow food for people to eat, it is failure.
When you move powers from one area to the other, you are decongesting where power has been concentrated. At the centre now, it is 93. If you decongest the political space, you will have the centre, Abuja looking at only about 15 items. Moving over to the regions automatically results in political decongestion. Political decongestion leads to economic deregulation. So, a lot of things being done now at the centre would move to the regions. Many of those now talking about restructuring have read my book.
To save Nigeria, let's talk. I said, let us have the national government; have the regional governments and then have the state governments. Local governments, because they were donations, you can cancel them or inherit them. So, the regions would now create local governments but they, and not the Federal Government must fund them because many of them were donated. Imagine for instance, Kano and Jigawa states with 66 local governments having more local governments than the whole of the South-South. It does not make sense. So, those who are talking about restructuring now just mouth it. Tell them to define restructuring, they would tell you how to move power from one section to the other and not mention where they are. National Assembly needs restructuring. In a developing country like Nigeria, you do not need a Senate and a House of Representatives getting all the money as Senator Shehu Sani told us that they were getting over N13 million per month and yet, we cannot pay minimum wage. What type of a country is that?
What has now become of the report of the restructuring committee set up by your party, last year? Was it a mere propaganda?
No, how can that be? It is in our manifesto. The president does not decide, he is a member of a political party and he is part of ensuring that the manifesto of the party is followed. Can't you see what is happening with the police? Can't you see what is happening with power generation?
Okay, do we take it that the Buhari administration is already implementing some of the recommendations of the APC Committee on Restructuring?
If he did not agree that there should be decentralisation that is going on, that some states can be generating power and so on.Don't you know what happened to Tinubu during the time of Obasanjo when they were trying to generate power and they stopped the contract? What I am saying is that what is happening in the polity that you see states doing a lot of things which are in the Exclusive List is because the administration is trying to widen the space.
The President was recently quoted to have said that the rule of law cannot be elevated above national interest. What is your reaction?
The argument is based mainly on ignorance. It is a question of facts. The thing is, what is national security and national interest? The one assigned to look after national security are the security agencies and the whole population.
National interest is superior to national security. National security is an aspect of national interest of a nation. The National interest of Nigeria is in Chapter Two of the Constitution. It is about the Fundamental Objectives and Directive Principles of State Policy and it settles what national interest is. Those are the areas of focus of any government…social, political, economic, educational, cultural, foreign policy and environmental. So important are these areas of focus that the people who embraced them pay all organs to ensure their enforcement.
Who is given the responsibility to monitor that enforcement? It is the media. So, when you see lawyers taking over your area of monitoring and you support them, then you are ignorant. All over the world, the courts adjudicate on any issue but in Nigeria, the courts are limited in their adjudication and they are limited in two areas constitutionally. They cannot look into what the military did between 1966 and 1999 when they left. In the area of lawmaking, if you go there, the courts will tell you they have no power. It is there in the Constitution, Section 6(6)(D). Section 6 deals with judicial powers and judicial powers are settled but they said in exercise of these judicial powers, courts cannot look into what the military did in 1966 when they first came and what they last did in 1999. If you go to court and say all those who have plotted coups should be punished, the courts would say they do not have the powers.
Then, there is another area that the courts in Nigeria cannot dabble into, Chapter Two. It is about the fundamental objectives and directive principles of state policy. They lined up the duties of everybody who exercises certain powers and when you are elected into office, you will swear under Schedule 7 to the oath of office and oath of allegiance. Even as a political party, you cannot be registered until you say what you would do in respect of all these areas spelt out in Chapter Two. I call them fundamental duties. The duties of the citizens are there too and the courts cannot look into those areas but the media can look into them as provided in Section 22. So, look at it, my colleague. With due respect, you (media) are ignorant and most of you are ignorant of the duties you should perform; to monitor security agencies when they are performing their duties of ensuring national security.
There is division of labour. You are to monitor the courts from the magistrate to the supreme courts when they interpret our constitution. You are to monitor the lawmakers from the local government up to the National Assembly when they exercise their powers to make laws. Incidentally, you are to monitor yourselves when you are performing these duties ensure that -although the owner dictates the tune because he pays the piper- you ensure that the tune is played by a philharmonic orchestra by the journalist who is trained and not just anybody. Social media are now the journalists. All these things are there but everybody is failing in his duties.
The media has an obligation. You must know the constitution more than the lawmaker. You must know it more than the courts and the executive because you are serving as monitors of governance. And if you are ignorant, it does not mean that you are not the one who has to monitor governance but you have just refused to prepare yourself to do so. How many people in the National Assembly know the workings of the National Assembly more than those journalists who have been there since 1999 monitoring what is happening?
The 8th Assembly knows little about the 7th Assembly but the 8th Assembly knows about the 8th Assembly. Imagine a man like Ekweremadu or David Mark, who have been there for a very long time. They will know about making of laws in the National Assembly than those just coming.
The courts cannot try governors because they have immunity under Section 308. The police cannot arrest them but you (media) are to monitor what the governors are doing and package your reports or findings to the legislature to impeach them or the president because what is being done wrong in breaching their oaths of office is to be monitored by the media.
So, if you go there to be pocketed by them and you collect crumbs from their tables, it does not mean you are not the one to monitor them. It means that you have failed and are a disgrace to the Nigerian masses because under Section 14 of the constitution, sovereignty belongs to the people of Nigeria and it is from the constitution that government derives all its power and authority.
Many of the states are advocating indirect primaries citing security and logistic concerns. How do we then conduct the general elections in those areas?
General election is done by INEC and not parties. You cannot say because you want to do party primaries, you start inviting everyone to come and look at it and then the police would provide security. Many of them are even talking of finances, although at the background, whether we like it or not is the issue of greed.
Many of the governors want to control the process because if it is direct primaries, it goes outside their control but the governors are the ones to provide the funding. If you are the governor, you will not agree to fund the type of outing that may undermine or even cripple you. So, there are personal interests and there are genuine interests.
The president has withheld assent on three occasions to the Electoral Act Amendment Bill. How healthy is this for the electoral process?
Yes, if on three occasions there are issues, it would be stupid to endorse it. Do not forget that the president has a legal team. When you have cross references that do not agree; constructions that will give courts problems; and some issues that you do not agree with, you can send it back.
What is your reaction to the faceoff between the party and Senate President Saraki over his refusal to step down after defecting from the party?
As a personality in my own right, I would not sit to preside over a meeting where I am in the minority. It is the total definition of greed. Honour demands you quit. It is just like Akpabio leaving the PDP and remaining Minority Leader in the Senate for the PDP. The mode of removing the Senate President is 2/3, that is about 73 senators.
You cannot remove him except you have that but if he sits there on the seat of the party in the majority, that is greed. I am not Saraki but Saraki cannot go to that house and want to preside over meetings where APC is in the majority. How comfortable would he be? He has moved, let him move, but he should not take the benefit of the majority. So, it is a moral obligation, not a legal requirement.