While airlift of pilgrims back to Nigeria continues in steady progression, the National Hajj Commission of Nigeria (NAHCON) remains mindful of the welfare of remaining pilgrims patiently awaiting their turn to return home. Even though the return journey continues on a first-to-arrive-first-to-leave basis, states continue their outbound trips based on availability of slots to their air carriers.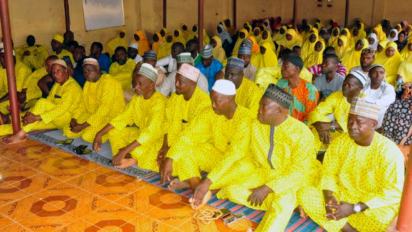 Despite the fact that hardly a day passes without two or more flights conveying passengers back to Nigeria from Jedda, yet, if wishes were horses, NAHCON would have realistically moved  50% of its pilgrims back home by now. But considering the fact that it does not control the air space allocated to airlines based on certain criteria, Nigerian aircrafts have to follow the queue, just as any other country in world. Truth is, one has to appreciate the magnitude of work and well organized Hajj travel operations of the Saudi Arabian government: handling over two million persons wanting to leave at same time is not a job one would envy.
Because the Commission understands the necessity of keeping its pilgrims comfortable while the wait is on, it is not resting on its oars to ensure the pilgrims' essential needs are met. This is why management of the Commission undertook an unannounced inspection of its caterer's kitchens evaluating their continued compliance to the conditions of contract: vis-a-vis quality of food, quantity, hygiene, packaging and timely delivery. It would interest the reader to know that NAHCON already has some of its staff members posted there on rotational arrangements to monitor kitchen activities. Nevertheless, management wanted to ensure that the contract terms are not compromised seeing that with the departure of many pilgrims, an uncommitted caterer may decide to relax. What management met was a different story.
The inspection tour kicked off after midnight of 3rd September with NAHCON Chairman leading a delegation of staff. The entourage met impressive situations on ground with most of the kitchen staff busy preparing breakfast. In all the kitchens visited, no idle one was found. In fact, some were already packaging their finished meals in food warmers and enclosing them in warm storage rooms ready for delivery. Breakfast was already on the road to pilgrims lodgings as early as 4:am, with our staff accompanying the delivery vans to their destination. This has been the routine though.
Perhaps the most fascinating parts of the tour are times when the NAHCON CEO in his wisdom severally engaged the caterers with the idea of sourcing their foodstuff from Nigeria in a symbiotic relationship which also gives them the advantage of preparing meals that appeal to the taste of their Nigerian pilgrims. He seized the chance to lecture them on Federal Government's agricultural initiative especially on rice production, not forgetting potato production, a commodity being consumed on a large scale in the Kingdom, Barrister Mukhtar Muhammed described the Nigerian variety as being generally sweeter and firmer. He also educated them on other food condiments used in preparing Nigerian cuisines that they could exploit to their advantage.
Indeed, NAHCON  remains committed to its primary responsibilities in addition to always grabbing any opportunity to commend the country's leadership foresight. By promoting Nigeria's economic, agricultural and other policies beyond its primary domain, NAHCON has proven to be not a liability to government but exploring innovative ways of opening more windows to the entire nation's growth. This much formed a salient part of the management's kitchen inspection tour in Makkah.
By Fatima Sanda Usara