…As he sets to take Nigeria music scene by storm
Buzzing Nigerian music act based in Toronto Canada, TOLANI ALVIN OSUNGADE's popularly known as Sojiii has been blowing up on the streets of Toronto and is back to take Nigeria music scene to a higher level.
In an exclusive chat with Vanguard during his recent visit to Lagos, Nigeria. Sojiii who just signed a management deal with Epic Media Africa disclosed that he will be dropping new materials with a new International fan base in mind.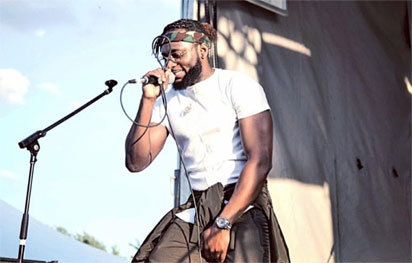 Read full excerpt of interview below
What's new about Sojiii, It's been a while since we heard from you and how does it feel like being back home after six years in Canada?
It feels great! To be back home after a while, and I am more excited to be back to the music scene out here, because it's a part of me always. This is home and I can't wait to show what I have been up to.
When is your next material dropping ?
I'm dropping new materials as soon as possible, I and my marketing team are just trying to pick out dates and what materials to drop, I already have an EP I can release at anytime, but we want to do it right for the people. We have sick materials ready for worldwide industry.
What has it been like working from Canada and what's the buzz and acceptance of your music like over there ?
My music has been blowing up on the streets of Toronto, I have mainly been concentrating on stage shows, I have performed with international acts like Bow Wow, E-40, Kidkeo, Daniel Ceasar and more. I have headline shows with top Nigerian acts like Psquare, Davido, Wizkid, Timaya, 2face and more. Mainly I have been focusing on bonding with the fans. Building my stage craft, connecting with souls and so far I can say it has been nothing but great! They love me and I love them back. I am blessed enough to connect with people from same background as me (Nigeria) and so many other different backgrounds.
What's the difference between the music industry here and canada ?
There isn't much difference, the only thing I can say is different is the distribution and marketing over there is different from here, it's a bit more easy to market there with the right resources, you get your profits if you market properly, and you don't have to wait forever to. Just do it right, believe in what you are doing and don't give up.. results will show up.
How would you describe your genre of music ?
My content changed from what I was doing years ago, what changed about me is I understand music a lot more now. So I make World music, something everyone can enjoy. I focus more on Afrobeats, Hip Hop, RnB, and Dancehall. But I can basically make any kind of music I want because I understand music more now.
Who are your role model in the music industry and why ?
My role models are people who inspire me, l don't really mention anyone in particular because I don't limit myself to having inspirations. It could be a little hungry kid struggling to survive on the street, that enjoys doing what they do. The fact that you are hungry and you still hustle and make something with no opportunity given to you, I see you as a role model. This kind of people I call role models. They help keep the fire burning inside of me.
What is the most inspiring moment that changed everything for you?
The most inspiring moment that changed everything for me. Honestly that moment is a topic that still replays in my head and it helps stay focused. It was when i was attacked and stabbed in the head, it took a lot for me to forgive and move on from that, but I am more than happy to say I have forgiven and I am proud of turning that whole negative situation into something positive and strong, I could have ended up worse, but I didn't and l also don't want to be remembered as the boy who was stabbed, I urge myself to be remembered as a great artist, entertainer, person and an African boy doing incredible things in the world map. I'm grateful for that moment teaching me life is short, life can be over at anytime, so you gotta have a plan for your life and be ready to live everyday like your last. Also it helped my relationship with God get stronger as l don't joke with that aspect of my life.
Where do you see yourself in the music scene in the next five years?
I see myself on top of the scene. Nothing less.