•Suspect held for arson – Spokesperson
By Emma Nnadozie, Crime Editor & Victor Ajiromanus
The family of Greg Okoh, 65, a farmer based in Ubulu-Uku, Delta State is in distress. This is because their son, Anthony Tobenna Okoh, 31, a civil engineer with a Chinese company which office is located near Dangote Refinery in Eleko, Ibeju-Lekki, was thrown into Badagry Prison on alleged trumped up charges by members of Lagos State Task Force.   The young engineer and breadwinner of his family has spent over 60 days in prison while efforts made by his employer and family to secure bail for him have failed.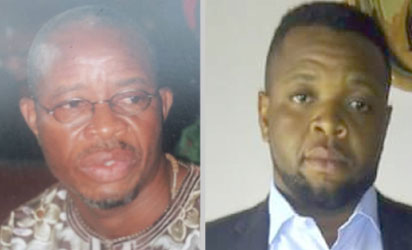 Father laments
Anthony's father, while narrating the family's ordeal in the hands of the Task Force, lamented that his son is being punished for no just cause. Elder Okoh accused the Task Force officials of unjustly arresting his son in his apartment at No. 17, Idasho Street, Eleko, without telling him his offence and also denied him his fundamental right when he was not allowed to speak to any member of his family or present his identity card in his room where he was arrested.
"Prior to his remand in prison, my son was arrested whilst sleeping at about 4. 30pm on Friday, August 10 by men said to be from Lagos State Government Task Force and was not told his offence.   He was refused bail and visitation while in custody in a detention centre in Oshodi, Lagos from August 10 to 13 and his pleas to be allowed to contact his employers were refused. He was not allowed visitors or even granted bail", he said.
Okoh said his son, a site engineer with CHCI NIGERIA FZE, is innocent of the accusation of arson and destruction of government properties levelled against him. He further said that his first son, Ikenna, who visited the accused at Badagry Prison, deposed to an affidavit based on what his brother narrated to him, saying that, at the time of his arrest, all explanation as to his person, position and innocence was rebuffed by the Task Force officials.
Ikenna said in the affidavit that, prior to his brother's remand in prison, he was arrested whilst sleeping at about 4.30pm on Friday, August 10 by a group said to be from Lagos State Government Task Force and was not told his offence, refused bail and visitation while in custody at a detention centre in Oshodi, Lagos till August 13.
"The suspect resides in the family house at No. 10 Adekanmbi Enitan Street, Iju-Ishaga, Lagos but had to share a room with a co-worker, who was then at work on morning shift, due to distance from the family house where he normally resides", the affidavit said.
"His explanation to the Task Force officials that he was innocent and not aware of the offences allegedly committed (which were never explained to him until he was produced in court) fell on deaf ears. That the day they arrested him, the door of the room he was sleeping in was damaged.   He was woken up and bundled into the vehicle of the security operatives like a common criminal, detained till afternoon of Monday, August 13 when he was taken to court and remanded at Badagry Prison.   That he was not aware and was not party to the alleged offence of arson or conduct likely to cause breach of the peace or conspiracy to commit a criminal offence or obstruction of law enforcement officers in the cause of their duty or any other offence at all.
"His explanation that he returned from work to sleep that morning, having worked overnight preparatory to returning to work later at 6.00pm, and pleas to be allowed to contact his employers were refused when he was arrested and taken from Eleko, Ibeju-Lekki to Oshodi near Ikeja and detained. He was not allowed visitors or granted bail and only knew the reason for his arrest in open court. He does not know and have never met any of the listed defendants in this matter".
However, reacting to the claims, the Lagos State Task Force's Chief Public Affairs Officer, Mr. Adebayo Taofik, told Sunday Vanguard: "The officers of Lagos State Building Control Agency were on enforcement mission around Idasho at Eleko. They were there to remove illegal shanties and structures constructed on a land marked for Dangote Refinery projects around that area.   "On getting to the site, the workers who were busy constructing these illegal structures mobilised themselves and attacked the officials. They attacked them, got them wounded using different weapons to the extent that they had to barricade the road with burning tyres and government excavator that was meant to be used for the work was burnt, while three of the officials were badly wounded.
"What I know is that the name Okoh Anthony was among the 15 people that were brought from the scene of the incident. And let me tell you, it is not possible for you to be inside your room and officials of government will just knock at your door and get you arrested. No person was arrested in his private apartment and our men didn't go beyond the scene of the crime. They were arrested on the 10th which was a Friday by 5pm. So we couldn't have arraigned them that day. Courts don't sit on Fridays. The arraignment came up on Monday. We don't detain anybody for more than 24 hours; we don't have a prison here."
He said that it wasn't true that the agency did not allow Anthony to show his identity card, saying the families of the suspects in the case came visiting them in detention.