Lagos – Mr Stanley Osifo, a Peoples Democratic Party (PDP's) presidential aspirant, has promised to create wealth and eradicate poverty in Nigeria if elected as President in 2019 general elections.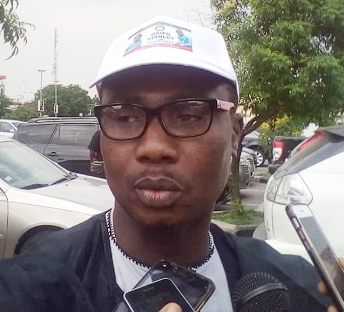 Osifo, a 42-year-old politician, made the pledge while declaring to run for the office of the President at the Lagos State PDP Secretariat on Wednesday.
The politician, who noted that he had lived all his life in Lagos State, expressed his determination and capacity to lead the country out of its socio-economic and security challenges.
"We have a network that we have set up for the youth to bring them up and sponsor them for elections.
"I am seeking for the post of the President of Nigeria from Lagos State. A lot of people have asked me questions as to why I want to be president and I told them that I am a passionate person.
"We have seen in the last three years that we are moving downward as a nation as everything has gone down to the barest minimum. It is sad that Nigeria is referred to as the capital of poor people
"We need a young person that has the knowledge of the country and who can solve the problems of the country.
"We have tried so many people. I may not be a millionaire, but I know what to do to solve the problem of the country," the presidential hopeful said.
Osifo, who frowned at massive poverty and killings, promised to locate the root of the problems and proffer solutions in conjunction with other passionate and vibrant youths he would bring onboard.
"Corruption has gone to a high level. I am coming out to make things work for the country and make things better.
"What we need is sincerity. I want to encourage us to convince other delegates that I am sincere and that I am ready to put Nigeria on the path of greatness. I will be a leader by example," he said.
A Chieftain of the party, Chief Taiwo Kuye, who spoke at the event, said that he was surprised when Osifo told him that he wanted to become the President of Nigeria and sought his support.
Kuye, a former State Organising Secretary, said that he got another surprise, when he saw Osifo at Wadata Plaza in Abuja to buy the presidential form at the party's secretariat.
"With that courage, I decided to follow him everywhere he goes. He promised to move round the South-West geopolitical zone this week and I was surprised that he could be so bold. Please, let us support him," Kuye said.
The event had in attendance a former Deputy State Chairman of PDP, Mr Shakiru Ola Apena, a Women Leader, Mrs Sola Oladegbo and a former Treasurer, Mrs Adewunmi Williams.
Others are the Lagos East Senatorial Leader of the party, Benedict Tai, the Legal Adviser of the party, Tejumade Muyideen and some local government chairmen in the party.
Senate President, Dr Bukola Saraki was also in the state PDP secretariat on Monday to solicit the support of the party's delegates from the state for his presidential ambition. (NAN)