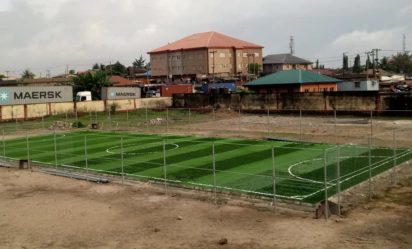 The marking of the second 5 A-side synthetic pitch in Ajeromi Ifelodun LGA has been completed by the Hon. Fatai Adekunle Ayoola led administration.
The high technologically enhanced pitch is a way Hon. Ayoola is using to revive the lost glory of sports in Ajegunle as a whole.
Speaking, Hon. Ayoola said, "Sports in Ajegunle will soon take its rightful place in the world because I am bent on constructing more sporting facilities and creating a veritable means for talent discovery and development."
The marking was also done with synthetic white grass for durability. Contractors have also promised maintenance of the facility over a long period of time.
The new pitch is located at New Road Primary school, along New Road, Achakpo in Ajegunle.