…say consistently embarrassed PMB's govt
By Gabriel Ewepu
ABUJA-Lawyers from Ekpeyong and Co Chambers, Monday, blasted Chairman, Presidential Advisory Committee Against Corruption, PACAC, Prof. Itse Sagay (SAN), over allegation of corruption comments against Sen God'swill Akpabio, upon his recent defection from the Peoples Democratic Party, PDP, to the All Progressives Party, APC.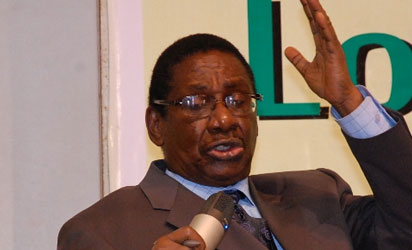 This was stated by their leader, Leo Ekpeyong at a press conference held in Abuja while reacting to a statement allegedly credited to Sagay in one of the national dailies, where he said that joining the President's camp would not save any politician from probe or prosecution; "I know Akpabio is still under probe and if he is found culpable, he would be invited and prosecuted. For me, the only import of him joining the President's campaign is that he can be persuaded to make a plea bargain quickly, which everyone is entitled to, but the stubborn ones will not take that option", Sagay purportedly stated.
Ekpeyong said it has become necessary to clear the public with the truth about what Sagay alleged on the media, which according to him (Ekpeyong), the petitioners had no proof over their petition alleging that Sen Akpabio squandered N100 billion from the Akwa Ibom State coffers in 2015, which they later dropped their petition.
He said: "It is an attempt to distort facts and we want to clear the records because Prof Itse Sagay's claims are not true. There was no plea bargain as he claimed while petitions have been withdrawn.
"We had rigorous interactions with the anti-graft agencies upon which we discovered in the course of our interactions and experiences with the anti-graft agencies that the investigators and the sponsors of these petitions were unable to substantiate the credibility of the allegations.
"What is most worrisome is the fact that we are unable to trace the nexus between the withdrawal of petitions from the anti graft agencies and the defection of Akpabio. We urge the public to discard the statement."
Also speaking was Mr Eyo Ubuo, who decried statements of Sagay, describing it as consistent embarrassment to the President Muhammadu Buhari's government and called on President Buhari to call him to order.
According to Ubuo, statements from the university don usurps the judicial arm of government as he has tried, convicted and discharged alleged corrupt Nigerians on the media.
Also Mr Eyo Ekong, said playing politics with legal issues of which clarifications have been made does not show professionalism in the legal profession. Ekong pledged support for the effort by the President in fight against corruption.