By Nwafor Sunday
The minister of Information and Culture, Alhaji Lai Muhammed, Tuesday boasted that the All Progressives Congress, APC would win the re-run election scheduled for Thursday 27 September by the Independent National Electoral Commission, INEC.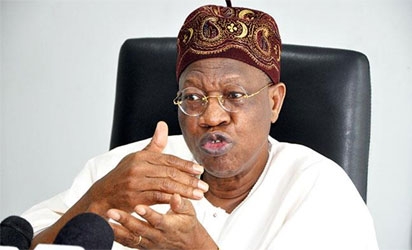 The re-run which is between the candidates of Peoples Democratic Party, PDP, Senator Ademola Adeleke and Alhaji Gboyega Oyetola of All Progressives Congress, APC, has since INEC's inconclusive declaration witnessed lots of criticisms from PDP supporters.
Osun rerun : CUPP allegation baseless, unsubstantiated – INEC
But reacting to PDP's statements and alleged threat to go to court, Muhammed on Tuesday in Abuja averred that the party should not waste its time on empty threats  because they will be defeated on Thursday.
His words, "The PDP, after its failed mission to win Saturday's election at all cost, is shopping for an illegal shortcut to victory by threatening a court action over an issue that has been settled.
"It's a sheer waste of time. Let the PDP drop its pretension and get ready to be defeated in Thursday's rerun. Alternatively, it can withdraw to save face.
"The PDP knows that the so-called court challenge which it has threatened to mount will not fly, especially because the highest court in the land has already pronounced on the issue of whether or not INEC has the powers to declare an election inconclusive.
What the Constitution, Electoral Act say
"The PDP is not unaware of the pronouncement of the supreme court in the case of James Abiodun Faleke vs INEC and others, that INEC has the duty of conducting elections and that, besides the constitutional provisions, it is guided by the Electoral Act 2010 (as amended) and the election guidelines and manual issued for its officials in accordance with the act."
Subscribe for latest Videos