By Ebun Sessou
THE stage is set for an epic battle for the Lagos East Senatorial seat with Senator Gbenga Ashafa pitched in battle with a four-time member of the Lagos State House of Assembly, Hon. Adebayo Osinowo.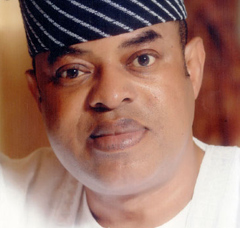 Adebayo egged on by some members of the Lagos political establishment has vowed to unseat Ashafa from having a record third term in the Senate.
Osinowo's bid has, however, been dismissed as not being a match for Ashafa by some APC Lagos East leaders.
Ashafa, who appeared to make a political faux pas when he appeared at Governor Akinwunmi Ambode's declaration for a second term retraced his steps back to the political mainstream when he made a conspicuous appearance at Babajide Sanwo-Olu's declaration to run for the governorship, last Sunday.
Also known as Pepperito, Oshinowo, at his declaration said his intention to run for the Senate was borne out of his legislative zeal and experiences he had gathered in the last 16 years at the Lagos State House of Assembly.
His words: With my 16 years of experience in the state Assembly, I have acquired enough legislative experience to propel me for greater achievement in the Red Chamber. I have been actively involved in the political activities of the East Senatorial District for over two decades. I know where the shoe pinches. My legislative commitment in the upper chamber will not put a stop to the existing programme in the district; rather, it will continue to expand," he said.
Ashafa is the man for the job, Basorun, Ogunleye, Lagos East APC
However, Second Republic Secretary to the Lagos State, Chief Reuben Olor unfunmi Basorun; former Lagos State Deputy Governor, Prince Abiodun Ogunleye; and Lagos East APC, have thrown their weights behind Ashafa.
Ogunleye told newsmen in Lagos that the leadership of the party has endorsed Senator Gbenga Ashafa for another term and not Osinowo.
"I have told Pepperito to forget his senatorial ambition because I have given my words for Ashafa. Nobody can compel me to endorse him. It is not possible. I am a straightforward person. I was away from Nigeria. A particular candidate was endorsed by the leadership that I belong to in 2017. When I returned in 2018, another meeting was called where that endorsement was reaffirmed. We have people from Ikorodu that are contesting, but the party has decided. It is not possible to work against the decision of the party and the leaders", he said.