The international boxing community will stand still on Saturday 22 September to witness Anthony Joshua defend his world titles against Alexander Povetkin. The much-loved Joshua, will hope to retain his IBO, WBA, IBF and WBO heavy weight titles, while seasoned boxer Povetkin attempts to strip his opponent of the titles, securing heavy weight glory for himself. It is set to be another big night for British boxing one that boxing enthusiasts will not want to miss.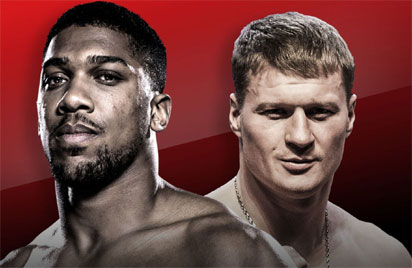 The stakes are high as both fighters enter the ring with an impressive track record. Joshua is currently the unified heavyweight world champion, with three of the four major world championships in the sport to his name. He returns to the ring following his victory against Joseph Parker by a unanimous points decision in March of this year. Joshua is a confident boxer, with the undefeated track record to back it up.
Povetkin is no stranger to the ring either. The former WBA champion has 35 bouts under his belt, 34 victories, 24 of which by TKO. Povetkin has only recorded one loss to Joshua's former opponent Wladimir Klitschko in 2013, since then he has won eight consecutive fights, including a knockout victory over David Price on the Joshua-Parker undercard. He will attempt to steal heavy weight glory from Joshua and continue his new winning streak.
Africa's trusted source for premium sports content, and exclusive broadcaster for the fight, Kwesé TV will deliver all the ringside action live from Wembley Stadium. Kwesé will provide ample coverage for the fight across its viewing platforms. Kwesé TV subscribers can enjoy live blow-by-blow action on their satellite TV decoders. Viewers who want to catch the fight on-the-go can do so through the Kwesé TV or Kwesé iflix apps. If you can't tune in for the live action, Kwesé Free Sports will air a delayed broadcast of the fight on Sunday 23 September at 6.00pm. Whatever your viewing preference, this multiplatform broadcast network has got you covered.