By Demola Akinyemi
An aspirant for Ifelodun/Offa /Oyun  Federal Constituency of Kwara State on the platform of the All Progressives Congress (APC), Hon. Gbenga Oyekunle, recently flagged off his campaign in his hometown,Igbaja.
The founder of Gbenga Power Foundation  has been involved in various empowerment programs for about a decade.
Oyekunle speaks on his aspiration.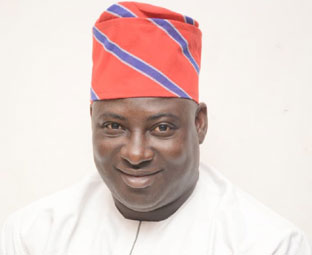 Tell us  your antecedents in politics? 
I've   worked with so many politicians for a long time,though not in Kwara State. I'm a  successful businessman and I also have politicians who are my  friends and I see what they do but I think I can play politics in a far better way  . I've not contested in any election before,I've also not held any political office before, but I am very  good in humanitarian work   and reaching out to the  people. So what brought me into   politics is just to meet the needs of my people.
What's your assessment   of the general performance of President Muhammadu Buhari led administration?
President   Muhammadu Buhari has been trying his best to make Nigeria work and Nigeria will work. Its not only Buhari that will make Nigeria work,its the duty of all of us. From my understanding  , we are the Buharis, because the man is sitting down in Abuja, giving directives, and making sure things are working but unfortunately most  people are really working against the man to succeed based on their selfish and political motives. So to me, we should put this country first and drop all our selfish ambitions so  that the country can work.
 With your involvement in Kwara politics now, what are your chances of getting the ticket and even winning the election?
I joined politics to meet the needs  of my people. And I believe that it is my people that will   get the ticket for me , I also believe that whatever any other aspirant is doing, I'm doing my best and my people trust  me enough to represent them. So, it is the people that will give  me the ticket and it's the people that will actually win  the election for me so that I can lead them   better.
 What is your advice to   politicians?
My advice to politicians is this; we  should all drop our selfish ambitions and build this state.   Kwara State needs to be built, it is a very great state,its filled with  milk and honey but it is a pity that we have   not discovered these great potentials over the years, Kwara State alone can feed this country if we put our brain to work. It is also a centre of attraction for tourism. So it is a place that can be the envy of the country because of the natural endowment here. So we need to put our natural God giving endowment to work and make the state great. My advise is that people   should drop their   political business-like way of doing things.
In the first instance, what motivated you when you started your philanthropic gesture since about a decade ago because because we know some politicians don't do it?  
My motive for doing this was because I hate seeing people suffering,and not getting what they want. I like justice and I like to be fair   in all my dealings. If somebody wants to get something which is a right as a Nigerian, he should get it. So, my mission is  what belong to the people, must get to them.  What motivate me is that I want to ensure that people use their God given gifts and put them to work and make Nigeria great. So what pushes me is that I don't like seeing people suffering and not getting what they  want.
 How do you recover the huge money you have spent since this is not a business venture? 
I'm a businessman. I have   certain percentage of my business that goes into my humanitarian needs and that is what I do and that is how God wants us to do things. When you have a particular inflow from your business, salary, a particular percentage should be reserved for the people of your state and you should not eat everything up, you should give back to them.
 In terms of support, do you think have enough support base to achieve your political ambition?
I believe the lives we have touched will  definitely tell their people and they will like such things to continue because this welfare package we are doing, we are doing it because the economy is like this. What we are   going to do is this, we have already told the people that we   have things that will be supporting them, if I'm voted in,   people will have what can sustain them such that even they will now be doing the welfare that I'm doing for several others on my behalf,the strategy has been mapped out. So, with this, we encourage other people to join our foundation and let us achieve this together.
 How do you determine your  beneficiaries, those who you give out the gestures? 
We look at the aged, we look at the widows, and we look at the need because there are so many people, like the scholarship we gave to all the local governments, in each local government, we identify the needy and give them the scholarship,we also support people with talent in sports, infact, we are currently training such   people in the area of sports to make them useful for this country. And we also encourage people to make use  of their talents to get what they need; we assist them in doing this.
In rough estimate, can you  appropriate how much you have   spent on this work?
Actually,   its uncountable; we have spent hundreds of millions in   reaching out to people. Every Christmas, Sallah, Easter,   Ramadan we give people and we have been doing it for the   past ten years.