By Chimaobi Nwaiwu
Nnewi – The Sit-at-Home directive by the Indigenous People of Biafara, IPOB, witnessed total compliance in Onitsha and Nnewi as Schools, markets, banks transport companies, governments offices, artisans shops and other business activities including street shops and markets remains under locks and keys.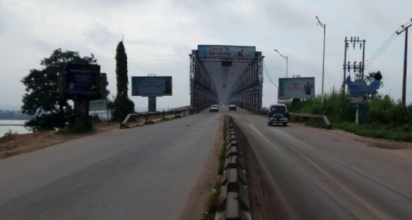 There was no vehicular and human movements as early as 6.30 am, but the Nigeria Police and Nigerian Nave Hilux and other trucks were seen with officers and me patrolling, the streets of Onitsha.
Officers and men of the Nigeria Army were not seen patrolling like the Police and Navy, but they were seen at their 302 Artillary Regiment gate and junction, while those that normally stay at the Onitsha and Asaba ends of Niger Bridge Head during similar Sit-at-home, we're not sighted at those check points.
However, soldiers from the 302 Artillery Regiment that stays by late Dim Chukwu Odumegwu Ojukwu's plaque near Niger Bridge head were in their tents bit were not mounting any road block.


Some of the residents who spoke with Vanguard but pleaded anonymity said the Army may have withdrawn from the road to avoid being accused of any killing like in the past when they were accused of being behind any casualty during similar exercise.
At Upper Iweka five white coloured Police vans full of officers and men were sighted patrolling from the Onitsha Enugu Expressway service lane Upper Iweka to Niger Bridge Head area, while officer and men of Okpoko Police Station mounted six pick up vans at Obodo Ukwu road junction, but were not disturbing anybody.
However Policemen from Awards Police station mounted their own four pick up vans at Awards by Tarzan junction area of Onitsha Owerri road almost directly opposite Obodoukwu road.
Speaking with Vanguard at Lagos Park, Upper Iweka, Prince Johnson Etodike a transporter with one of the major transport companies at Lagos park Upper Iweka, said they are not surprised that people will totally obey and observe the sit at home directive by IPOB.
"We must respect whatever is the reason the IPOB, called for the sit at home, we understand that the treatment meted in Owerri IImo State by ignoring women demand the whereabouts of Nnamdi Kanu was one of the reasons.
Do you know that everyday we receive more than 200 night big and small buses from Lagos here in Lagos park Onitsha, but today we received only three that were not fully loaded, many transport companies did not receive night travelers from Lagos and other states into Onitsha.
As you can see we are not loading any passenger because nobody is coming and we are not even interested, the people you are seeing that are waiting for the passengers that are not coming are greedy Igbo men, but they are disappointed that passengers are not coming and they are locking up their parks.
"We have made statement with this sit-at-home and we expect Federal Government to address the grievances being expressed by IPOB.
On the other side of Lagos, Park Upper Iweka, the Okpoko by Nigerian Customs office, service lane, where hundreds of lorries, mini buses and small buses usually load passenger and goods bought from Ogbaru Main Market, youths turned the place to playing field and no single vehicle was sighted there.
Vanguards investigations revealed that this is the most observed and complied Sit-at Home since the emergence of IPOB as schools, markets, banks, transport companies , government establishments and other business outfit joined in obedience and compliance.