By Egufe Yafugborhi
PORT HARCOURT — INDEPENDENT National Electoral Commission, INEC, has said the unethical culture of vote-buying in Nigerian politics was being instigated by political parties in the country.
INEC Resident Electoral Commissioner, REC, for Rivers State, Obo Effanga, who made the disclosure yesterday, in Port Harcourt, said the electorate would not sell their votes if politicians and their parties don't make offers.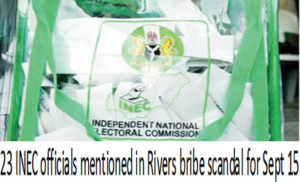 Efanga said: "If the political parties are not bringing money to buy votes, there won't be vote-buying, so the problem starts with the parties. Then, there must be orientation for citizens to know that their vote is a very sacred mandate that they don't give up for a token."
Meanwhile, Inter-Party Advisory Committee, IPAC, in Rivers State has called on INEC to conclude the Port Harcourt Constituency 3 by-election suspended by the commission on August 18.
IPAC chairman, Samuel Ihunwor, said: "INEC's position in suspending the exercise was quite welcomed. The only thing we are asking is when will this election be concluded?"
"The rugged stand of INEC on the matter showed there is hope for the common man. I urge them to conclude that election so that the constituency can have representation in the state assembly."