By Wale Akinola
Governor Okezie Ikpeazu of Abia State, in this interview, tackles critics, saying if his predecessor, Senator T. A. Orji, was looking for somebody who could watch his back, he wouldn't have been a ready choice. Ikpeazu also speaks on his Abia dream and his re-election bid.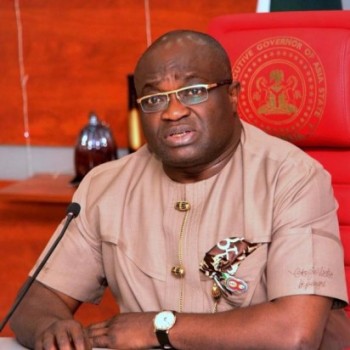 How has it been overseeing Abia over the last three years? This question is informed by the refrain across the country by some of your fellow governors and the APC-led Federal Government that the inertia in governance should be blamed on the unexpected rot their predecessors left behind.
Every government at any point in time has its peculiar challenges and constraints which can only be understood or appreciated on empirical interrogation of what the issues were and the circumstances.
Having said that, except in circumstances where blame game is intended to achieve political ends, every person that aspires to assume leadership in a political environment should naturally anticipate that there are problems to be solved.
Even in developed economies that have strong institutions and have had uninterrupted years of infrastructure update, successive governments still have unattended infrastructure challenges to deal with. We in Abia have our own challenges which, by the grace of God, are being systematically dismantled. Government is a continuum and, within four or eight years, each governor or president continues from where the predecessor stops. However, in circumstances where a predecessor tries to undermine the integrity of the successor by engaging in unnecessary shadow boxing as
is evident in some states, the consequences are usually unsavoury. We understand that governance is a relay race and, on taking the baton, we hit the ground and started running. To the glory of God and the support of the good people of Abia, we have not
looked back in service delivery.
You vigorously took up the challenge of the promoter-in-chief of made in Aba products. What informed this and how far has your effort paid off?
Long before I became governor, I had always sourced my shoes and wears from Aba and their creative ingenuity has been astounding. Their greatest challenge was how to break into the market to enjoy volume sales for value.
Besides that, for unexplainable reasons, made-in-Aba products have not had the opportunity to shake off the stigma of poor quality which definitely is not a statement of fact, rather, a tag  that diminishes literally every made-in-Nigeria goods even beyond Aba. On assumption of office, it was clear to me that for the state to leverage the economic possibilities inherent in tapping the abundant potentials of businesses in Aba, government must play
critical role in widening the platform of opportunities for them to excel. Beyond advocacy in promotion of patronage for made-in-Aba products, government is incrementally addressing the infrastructure challenges of the city to strengthen the productive capacity of the business in Aba and ease movement of goods and persons within and out
of the burgeoning market that is an obvious green field.
Our effort is paying off tremendously and by the time we finish reshaping the city, Abia would join the league of states with high internally generated revenue, create job opportunities through private sector initiative and generally put the economy of the state on the path of real growth.
What critical sectors in your administration's development agenda can change the governance narratives in Abia?
This administration appreciates the place of infrastructure update and capacity building in putting Abia on the path of real development. The big picture is to get the state to assume a commanding height in entrepreneurial exploits founded on production of goods. Luckily, we have self-mobilised entrepreneurs ready to explode and excel.
We are in a hurry to support the private sector operators to fully express themselves and realise their productive capacity, provide the necessary enablement's for value building, invest heavily in human capital development which is a veritable factor of production, strengthen our educational system to make the products not only employable but competitive, improve the ease of accessing quality healthcare services, opening up the rural areas through improved road infrastructure, ensure that government supports the security agencies to make our state secure and peaceful.
Added to the above, the government has within the limits of the resources available ensured a progressive location of projects to promote inclusion of all the zones in the state. Before long, we will clear all the outstanding entitlements to pensioners and workers in some MDAs where government is in arrears.
Unlike some states in Nigeria, Abia seems to enjoy peace in political engagement. What accounts for this, is it in your person, style in managing opposition, or the quality of opposition in the state?
Constructive criticism puts every thinking person or government on toes. It assists government to do intrinsic evaluation of its character, style, programme, policies and projections.
The moment a criticism is devoid of mischief, misinformation, lack of understanding or knowledge of the issues and a deliberate attempt to undermine the government just to score some political mileage, I find it useful and would even be grateful to the critic no matter the political divide. Seldom do I join issue with political opponents
because the business of governance could be derailed when one falls prey to distractive antics of opponents.
Even when the urge might be there and pressures mounting to get into the trench or draw up sleeves, I resist. Maybe it has to do with personal discipline or with character formation or both but suffice it to state that it take two for a fight to break out. I have had cause to personally reach out to political opponents that criticise me out of ignorance or a possible poor grasp about what the facts and the issues are to explain things and clear their doubts. In most number of those people realised their error of judgements and deduction and apologised.
My attitude might read cowardice to some but my strength and staying power lies in that. Naturally, I encourage harmonious co-existence and would stop at nothing to promote peace.
Critics are of the opinion that the endorsements you have received across the state for second term are underserved. How do react to that?
Your question should actually be directed to the citizens of the state, who are the mandate givers that endorsed me for second term. The people are the repositories of power and the elected emerge by the grace of God and the votes of the people.
Having said that, it is important to state that before the elections, we made campaign promises that defined choices.
In the last three years and counting, we have recorded commendable success in delivering on our promises. If there are milestones that are likely not to be met within the four years, we have been sincere and humble enough to explain the constraints and challenges which the citizens are aware are not peculiar to Abia and cannot be blamed
on lack of gravitas on the part of the Governor and his team.
In the light of the above, armed with requisite information freely released to the people in recognition of their position as stakeholders and convinced that we are leading the state through the right path to an assuring paradigm shift, the people in their wisdom feel that the momentum should be sustained, thus, the endorsements. Beyond these, the discipline and transparency you bring in driving government business, becomes the icing on the cake. Convinced that these endorsements are not products of inducement, arm twisting or devious manipulations, I feel humbled by the confidence reposed on me by the people and promise to do more.
Many have claimed that T.A. backed your ticket based on absolute trust that you can watch his back…
If the former governor was looking for somebody that can watch his back, Okezie Ikpeazu wouldn't have been a ready choice. Even within the Ukwa Ngwa axis where I come from, I am not the toughest, the most politically savvy or the closest person to him. So, the choice wouldn't have been predicated on any of these mundane considerations.
Those that discount the hand of God in defining their destinies and trajectory in life may have a lesson or two to learn about cosmic influences. As a good practising Christian, I strongly believe that God used Ochendo and the good people of Abia to make me governor. Mind you, in all these, Ochendo had only one vote. Most regrettably is the failure of critics to show why Ochendo should exit Government House without a successor, or show proof of their allegations. Most unfortunately, most of these critics struggled to succeed him alongside me. If you ask me, I was the least of the number whose quest to govern Abia became a contentious issue. As a team player, I was willing to support anyone chosen to fly the flag of the party in the election. I have never stretched my ambition with such desperation as to ruffle consensus and group interest. That perhaps gave me competitive edge and earned the party's choice the massive support received from colleagues and the people of Abia.
So, I was not chosen to watch the back of Ochendo neither would I be a pawn on the chessboard of few individuals that revel in stoking embers of hate and confusion. Ochendo has never asked me to watch his back and he cannot do so because Interpol, EFCC, ICPC are not after him.
Why would I be the one after him? If anyone has anything against Ochendo, he or she knows what to do. If they bring it to my notice, I will be fair to all. Luckily, there is no sacred cow in Nigeria.