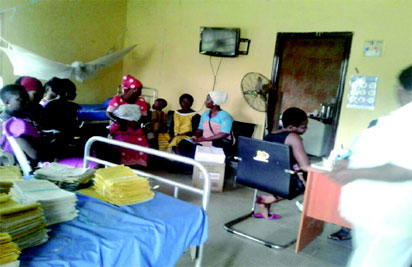 *Women during  family planning at the Primary Healthcare Centre, Ogudu, Kosofe LGA, Lagos during a field visit
By Gabriel Olawale
THE Chief Medical  Director of the National Orthopaedic Hospital, Igbobi, Lagos, Dr. Mustapha Alimi has called for more understanding by care providers and relatives of accident victims even as he disclosed that the health  institution attends to not less than 10,000 accident victims annually.
Alimi who made the appeal last week, said 75 per cent of the patients present with spinal cord injuries, lower extremity fractures, limb loss or congenital malformations of the lower limbs among others.
https://newlive.vanguardngr.com/2018/09/12-yr-old-girl-2-others-shot-as-violence-erupts-in-osogbo/
"Those that come with fractures can have them fixed and they can  walk again. Some, their fractures are so bad that even if they walk again, it would not be as good as it used to be. However, those with  spinal injury may completely be unable to walk or may walk only partially."
Speaking during the institution's 2018 Annual Scientific Conference and workshop, he said: "Our responsibility in this institution is to receive the patients, assess their injuries and decide whether it would result in permanent or partial disability. Those that come early, we try our best to restore them and make sure they are properly rehabilitated.
"Igbobi is for restoration and if there is need for amputation, it is to save lives. My advice to people experiencing one form of disability or the other is that there is always ability in disability. Once your brain is functioning, you can still do a lot."
Also speaking, President/CEO Mobility Aid and Appliances Research and Development Centre, Dr. Cosmos Okoli, urged people with disability to come to terms with their present situation. "My advice is that any condition you cannot change, you have to come to terms with it and live with it, and live happily with it.
He regretted the shortage of mobility aids in the country.
https://newlive.vanguardngr.com/2018/09/sapele-youth-invents-electricity-generating-device-seeks-govts-aid/
"We don't have any factory manufacturing these mobility aids and appliances in this country as a result of unconducive environment.
The guest speaker and Consultant Orthopedic Surgeon, Lagos State University Teaching Hospital, LASUTH, Dr Gbolahan Taiwo Adebule who spoke on the theme: When you cannot walk, called on government to set up rescue units for accident victims across the country to promote rapid response to save people's lives.
"We also need equipment so that  surgery can be done as quickly as possible. What we have now is scattered effort in various hospitals."