By Emma Amaize, Regional Editor, South-South
ASABA—FORMER Minister of Information, Prof Sam Oyovbaire, has said that former Governor of Delta State and Leader of the Ibori Political Family, Chief James Ibori, was sorry for the defection of  his elder cousin and ex-governor,  Dr. Emmanuel Uduaghan,  from the Peoples Democratic Party, PDP, to the All Progressives Congress, APC and had asked people to pray for him.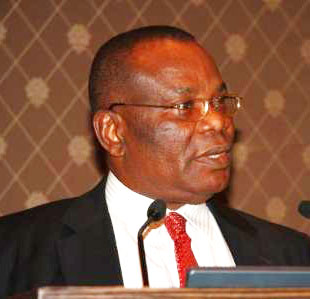 Oyovbaire, the political godfather of the incumbent governor, Senator Ifeanyi Okowa, told Vanguard in Asaba that he discussed Uduaghan's shocking exit with Chief Ibori and what he said was that those who know Uduaghan should pray for him.
He also lambasted the national chairman of APC, Mr Adams Oshiomhole, who he accused of being garrulous with his outburst that his party would take over Delta State in 2019.
Surprisingly, the PDP chieftain said he had not yet asked Governor Okowa what happened between him and Uduaghan that led to his defection, but said  "I know a few things that happened but I do not want to go into those that are speculative.
"The second day Dr. Uduaghan showed up at the APC caucus meeting in Abuja, I was with Chief Ibori, we had opportunity to discuss about Uduaghan, believe you me, what he told me, I have no cause not to believe him, he said he was sorry for his older cousin for leaving PDP.
"He said to quote him that we should just pray for him, let him go, which meant that he may have done some works, but I was not part of that work, so I will tell you that  I have every cause to believe that Ibori is very much is with us.
"The day we were having this conversation, his daughter, who had bought her form in PDP was going round for consultation to appreciate the leaders of Ethiope East PDP, particularly in Mosogar and Jesse axis, so all evidence points that James Ibori is with us. He felt bad, I am not sure that he is happy that Uduaghan had to go and that was why he said please help me pray for him."
On Oshiomhole's well-known eruption that APC would take over the state, he said: "What makes Oshiomhole to come to Delta State and say that we will take over Delta State, with due respect to him, he is a friend of mine, he is being garrulous.
"People do not talk like that, you are not even a voter in Delta State, so what do you mean when you say you will take over Delta State. Is he saying that he will mobilise and those in PDP will now because of him vote APC? I do not know what he meant.
"Or as APC is now in charge, just like PDP was in charge, the national institutions and actors in the elections from INEC to the various security agencies will be used to intimidate people in Delta State? You see, a democrat does not talk like that, those are statements that come from dictators and I do not think such words should come from somebody that had a good record of labour activism to wear the garb of dictatorship.
"My point however, is that APC cannot take over Delta State, I do not accept that. If they want to buy votes, let them bring all the money to do that, but the entire global system is watching us and if that is the kind of image that the APC government wants to create, then it is unfortunate," he added.