Mr. Kingsley Uju, a House of Representatives aspirant of the All Progressives Congress (APC) in Imo, on Sunday decried the increasing rate of vandalism of PHCN equipment in most communities in the state.
Uju, who is currently the Deputy Chief of Staff to Gov. Rochas Okorocha of Imo, is the sole House of Representatives aspirant of the APC for the Ohaji Egbema, Oguta and Oru West Federal Constituency.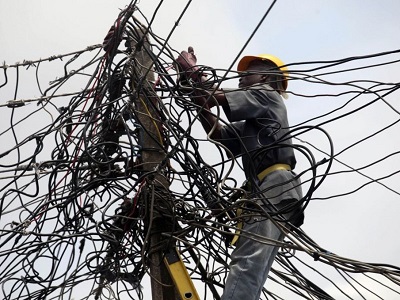 The aspirant's reaction is coming on the heels of agitations and appeals by some communities in the constituency that have been in darkness for over a year due to the vandalism of their transformers and powerline cables.
Newsmen report that the Enugu Electricity Distribution Company (EEDC) had in May, inaugurated a Special Investigation and Prosecution Force on Electricity Offences, to checkmate individuals and organisations engaging in energy theft and vandalism of electricity infrastructure.
The EEDC which covers the five South-East states of Abia, Anambra, Enugu, Ebonyi and Imo, says vandalism and theft remains its major challenge in effective power distribution in the region.
Newsmen also report that the House of Representatives had on Feb. 22, mandated its Committees on Power, Police Affairs, Interior, National Security and Intelligence and Justice to examine the non-prosecution of electricity equipment vandals in the country.
The mandate followed a motion by Rep. Francis Uduyok on "the Call to Investigate the Lack of Prosecution of Vandals of Electricity Cables and Equipment in Nigeria.
The aspirant told Newsmen at an interactive session in Lagos that the state and even individuals had spent so much over the years trying to replace stolen and vandalised equipment in communities across the state.
"I have personally made donations of transformers to most of the communities in my constituency more than once. This is in addition to replacing stolen cables across the communities.
"The state has also expended funds meant for other infrastructure just to ensure that communities are not left in darkness.
"But we cannot continue to fold our hands and watch a few individuals continue to throw entire communities in darkness.
"I have procured new transformers for most of the communities and they are currently being installed,'' he said.
According to him, the cost of replacing vandalised materials is unbearable as it runs into several millions of Naira.
Uju said that the socio-economic effect of vandalism was negative because it results in throwing the communities into darkness.
The aspirant noted that continued vandalism of power equipment was incapacitating PHCN from discharging its services to its consumers who turn around to blame governments for their woes which should not be.
"There are Laws stipulating jail terms and fines for vandals of electricity infrastructure but this can only be applied when those involved are caught," he said.
Uju urged members of the State Security Service, Police and other law enforcement agencies to help to tackle the issue of vandalism of PHCN equipment in Imo.
"We spent millions of Naira to replace the equipment; this amount would have been better expended on new projects for residents,'' he added.
He advised Community Development Associations and other well meaning community members to be alert and assist in curbing vandalism of electrical equipment within their localities.
The Deputy Chief of staff also appealed to the National Assembly to come up with stiffer penalties for offenders that would serve as deterrent to others.
He reassured the communities involved that power supply would soon be restored as soon as the new transformers were installed.
NAN