…target growing tourist traffic
Hotel owners in Edo State have thrown their weight behind the efforts of Governor Godwin Obaseki to industrialise the state, and have begun positioning themselves to take their share of the resulting tourist traffic.
Chairman, Board of Trustees of the Association of Hotel Proprietors, Edo State chapter, Mr Roland Osunde, who led members of the association on a courtesy visit to the governor, in Benin City, saluted the governor's bold steps in transforming the state's economy.
Specifically, Mr Osunde said the development of the Benin River Port in Gelegele would boost tourist traffic in the state and impact positively on the hospitality and tourism sectors as well as the larger economy of the state.
He explained that his association is a major player in the hospitality sector and a major employer of labour in the state, with over 1700 workers across the 18 local government areas.
Mr. Osunde assured the governor of his association's readiness to contribute to the state government's efforts at diversifying the economy and improve the wellbeing of Edo people and residents.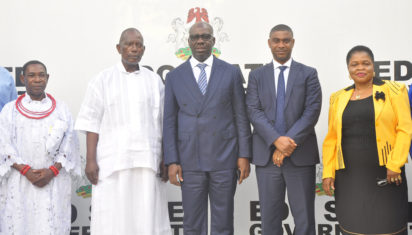 In his response, the Governor, Mr Godwin Obaseki, assured his guests of more support for their business as work on a master plan for the tourism sector is in progress.
The governor noted that as more investment deals are executed in the state, traffic in the tourism and hospitality sector would increase.
"Economic activities in the hospitality sector have been impacted significantly by the policies of the government, hence it is our decision to grow the industry but we cannot do it alone, we need your support.
"We see a lot of business traffic in the state as a result of the ongoing industrialisation drive by this administration and we see you as our biggest beneficiaries," Obaseki said.
He maintained that when work on the tourism master plan is finalised, the hotel owners would benefit immensely from the boom that the sector will record.