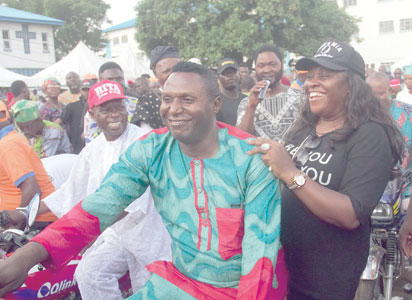 Hon. Rita rides on one of the motorbike she presented to one of the beneficiaries
By Ephraim Oseji
The Chairperson, House Committee on Diaspora Matters and  member representing Ajeromi-Ifelodun Federal Constituency of Lagos State in the  House of Representatives, Hon. Rita Orji, wants  to see  youths and people of her constituency  gainfully employed and self-reliant in order to bring  development and transformation to the  area.
Orji spoke  while empowering members of her constituency with  cars, motorcycles, sewing machines, hair dryers, laptops, cake making tools, make up boxes, grinding machines, modern machines for fishing, among others.
She  said, "I want  youths and the people of Ajegunle to know that there's someone who cares for them.  I just have to do this because they all came out across to vote for me in 2015″.
Interestingly, many people living at Ajegunle often refer to  the lawmaker  as Mrs. Empowerment. This is because she has been quite consistent in empowering the  constituents and providing for their  needs.
She  stressed further, "I  always come home to see the people of my constituency to  ensure  their needs and provide  necessary amenities such as good road, boreholes and …"
One of the beneficiaries, Victor Okoh, who was visibly happy said, "God will continue to bless Hon. Rita for her motherly love and care.  Hon. Rita has really done so much for the people of Ajegunle, she is a blessing to this generation.'