By Juliet Umeh
Starring into space, confused, Mrs Kate Bakare, living with HIV, was oblivious of the heat coming from the scorching sun, as sweat crowded her bewildered face, which she wiped with her left arm intermittently.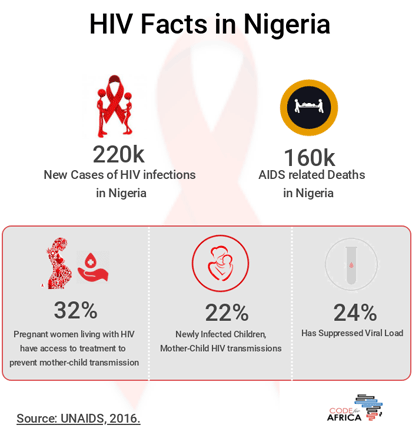 While others with same condition sat under a shade at the expansive compound of the Nigerian Institute of Medical Research, NIMR, Yaba, Lagos, where the people living with HIV had come to discuss issues about their health, Bakare was less concerned about the heat as she wandered off in her thought.
Her concern was something deeper than her state of health. Her five year old daughter was also living with the dreaded virus, HIV.
Her thought was punctured by our reporter, who greeted politely with a smile. Even at that, she still showed signs of frustration as she bares her thoughts to Vanguard. It was a sunny Saturday with blistering sun that compelled most people in the vicinity to go under a shade.
Sustain tax collection to reduce borrowing – expert tells FG
However, Bakare's case was pathetic. Her story defied the effects of the sun and both the reporter and the story teller never cared anymore about the sun.  It was about the daunting task of achieving at least 95 percent compliance with her treatment.
To maintain such level of compliance in Nigeria means that one lives daily on anti retroviral drugs while in places like South Africa and other developed worlds, there are drugs that are taken twice a year.
Having lived with HIV for six years, she is aware full treatment compliance is a must, to keep the virus in check. But, the task is becoming more daunting than difficult.  People living with HIV in Nigeria, must source and take the drugs daily even when the attitude of medical personnel dispensing the free drugs is nothing to write home about.
For her with a five year child infected with the Virus, it means that she not only has to cope with swallowing drugs every day of her life; she will also have to monitor her child and ensure she does not also default.  The trauma is better told than experienced.
With a voice laden with emotions and a face close to tears, Bakare began her story: "Some of us have infant children that also come to hospital to access these drugs and when you travel without your child, how are you sure that the child will be taking his medication while you are away?
As if she knew this reporter has no answer to her question, she continued: " I hardly betray a condition that will attract pity because I know that every situation in life has a solution. But the conditions people living with HIV in Nigeria are made to face in getting to live a normal life is harrowing.
You have to take drugs on daily basis, you have to struggle, shrug off torments and abuses to get the drugs from some dispensers who think your condition is self inflicted. At times, when you forget to take your drugs or it gets finished and due to your busy schedule, you've not had time to refill, you are psychologically down".
The 41-year-old petty trader, feels Nigerian government is not doing enough in the area of vaccine research, "My problems are my problems and I don't heap them on anybody but I think the government should do better than what is on ground. We've heard of so many developed countries that have started using the vaccine that could sustain them for up to six months. Why is Nigeria backward? Does it mean that the government does not want the cure or prevention of HIV?"
Bakare was not alone in this view. Coordinator of people living with HIV in Lagos, Mr Peter Obialor shares same opinion.  In the scale of preference, Obialor feels Lagos State is even doing better than the Federal Government of Nigeria in terms of awareness and funding. He said:  "We wear the shoes and we know where it pinches. I've not seen what the Federal Government is doing in terms of HIV vaccine research" .
ASUU calls for reopening of negotiation with FG
Corroborating Bakare and Obialor, Coordinator of people living with HIV in the Nigerian Institute of Medical Research, NIMR, Mr Naco Ezieme, carpets Nigeria government further. From his assessment, government's effort is below pass mark as far as HIV vaccine research is concerned. Ezime, who also lives with HIV, said that for the over two decades he had managed the virus, what has affected him the more, was lack of federal government's commitment towards vaccine research.
"Government should get more involved. We shouldn't leave the treatment, care and support about HIV to foreign donors. They have tried for us; they have and should also face their own economic challenges.  So, Nigerian government should own the programme fully" .
Bakare, Obialor, and Ezieme are among the 3.2 million people living with HIV in Nigeria, according to the Joint United Nations Programme on HIV/AIDS, UNAIDS.
Just like every aspects of the health sector is facing challenges in the country, vaccine research is equally not getting the necessary attention.
However, the Director General, National Agency for Control of AIDS, NACA, Dr. Sani Aliyu, said that the number of new HIV infections is declining globally with Nigeria inclusive because of the widespread availability and efficacy of the medications.
Unfortunately, Aliyu also admitted that the budget for research has been on decline. "Well, the budget has been declining for the most part, considering declining global funding" he added.
Worrisome is the report from the Joint United Nations Programme on HIV and AIDS, UNAIDs, which says that in 2016, Nigeria had 220 000(150 000 – 310 000) new HIV infections and 160 000 (110 000 – 230 000) AIDS-related deaths.
There were 3200 000 (2 300 000 – 4 300 000) people living with HIV in 2016, among whom 30 percent (19 percent – 42 percent) were accessing antiretroviral therapy. Among pregnant women living with HIV, 32 percent (22 percent – 44 percent) were accessing treatment or prophylaxis to prevent transmission of HIV to their children. An estimated 37 000 (22 000 – 56 000) children were newly infected with HIV due to mother-to-child transmission.
Among people living with HIV, approximately 24 percent (18 percent – 32 percent) had suppressed viral loads. According to statistics from NACA, Rivers leads with a prevalence of 15.2 percent, followed by Taraba with 10.5 percent, Kaduna 9.2 percent, Nasarawa 8.1 and the least is Ekiti with 0.2 percent, while the National Prevalence Rate remains 3.4 percent. Despite the above figures, investigations prove that Nigeria is still far behind on vaccine research.
Internationally, countries such as South Africa and Thailand are already on HIV vaccine clinical trial. Government's response has been largely on providing antiretroviral drugs and not putting more effort in researching preventive vaccines. Investigations showed that most of the researches being carried out by some government and private bodies are sponsored by international organizations who dictate the nature of the research they want done.
The issue of research is a common concern for stakeholders who feel that the governments at all level are not investing much in research. The common stand is that if government will put some money and sustain it, Nigeria has brilliant scientists and brilliant people that will do a lot and will make country proud.
According to a Senior Research Scientist at NIMR, Chika Onwuama, the facility for vaccine production in NIMR is down and not really working though it can be easily reactivated by government if desired.
Onwuamah who is the head of the Centre for Human Virology and Genomics at the institute says making the vaccine is not so much the issue right now but the research that needs to be done for it. To be able to be part of the ongoing global HIV research, "government really needs to invest a lot of money so that we will also be involved in the basic research," Onwuamah said.
He however noted: "Recently, our institution was given some money. The least you can get is about 1.5m to help you work on any of the health challenges. "It is very small but it's a start. It has never been there for a long time," he remarked. On how researchers cope, he said most of what they do is to work with international organizations. "We rely on their funding and that means, it is what they are interested in that we can work on.
He also wants Nigerian government to understand that research is not a product when they come to the same table to defend budget with the people that are into manufacturing, noting that all the years into HIV research globally that the best they have is 31 percent and that is a lot.
"Polio vaccine took 47 years until they got something and funds were gone into those years. So here we are, what funds are we using to work with? If government will put some money and sustain it over the while, Nigeria has brilliant scientists and people that will do a lot and we will make our country proud," adding that Nigeria has a different strain of HIV from other part of the world.
"Even the type found in northern Nigeria is different from the Southern Nigeria." Also, Deputy Director of Research /Head, Clinical Sciences, NIMR, Dr Oliver Ezechi, thinks in the same line with Onwuamah. He believes that the things that change the world are not tangible.
He said until Nigerians decide that research is important and decides to support research, we cannot move far. Ezechi encouraged government to invest in research by budgeting for research and innovations of which he said HIV is included and also urged prominent rich Nigerians to also invest and support research as it's done abroad.
Ezechi also pointed that the strain of HIV in Nigeria is different from other parts of the world. "So what it means is that if they continue researching with those other strains and once the vaccine is available it might not work for us. He said that research is capital intensive and the government needs to allocate some substantial amount in the yearly budget for it. He noted that the world has done well when it comes to HIV comparing the situation of their clinic to decades ago when people were dying every day.
"But that is no longer the case, it is a step and the next step now if HIV must be eradicated completely, is vaccine. "So I call the government and the people of Nigeria that we need to key into vaccine of HIV so that when the world discovers vaccine for HIV, we will also say we invested this amount of money into that," Dr. Ezechi advised. Both Onwuama and Ezechi believe that Nigeria has a burden.
Even though South Africa has the highest prevalence 20 percent, given Nigeria's 198 million population, three percent prevalence is still higher than that of South Africa.
Though government has made giant strides in terms of awareness and provision of antiretroviral drugs, it's important that the country makes a profound statement in prevention as the demography shows that the youth are the most infected. This story/investigation was made possible with support from Code for Nigeria's WanaData programme
Subscribe for latest Videos