By Ishola Balogun
The Lagos Central Mosque (Jama'atul Muslimeen Council) has congratulated the global Muslim Ummah, and especially Muslims of Lagos State, on the occasion of the New Hijrah Year, 1440 A.H.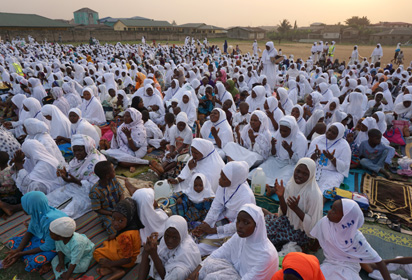 This was contained in a press statement released on Friday, September 14, and signed by the General Secretary of the Lagos Central Mosque, Alhaji Naheem Olushola Saheed.
Being the fountainhead of spiritual leadership of all Lagos Muslims, the Lagos Central Mosque Council urged all Muslims the world over to imbibe the lessons of the Hijrah, and to remain steadfast on the path of Islam, while ensuring that core Islamic values such as peace, sacrifice, patience and spiritual excellence remain their guiding principles.
"The occasion of the Hijrah is yet another annual opportunity to reiterate the core lessons of Islam, especially as regards peace, patience, sacrifice and spiritual edification. These, and steadfastness on the path of Islam, are important lessons that must not be lost on the Muslims of the world at this auspicious period", the statement read, in part.
The Chief Imam of Lagos, His Eminence, Sheikh Sulaimon Oluwatoyin Abu-Nolla, who is scheduled to receive his Staff of Office in an official ceremony on Sunday, 16th September at the Tafawa Balewa Square, Lagos, also weighed in on the importance of the Islamic New Year.
According to him, the main purpose of the Hijrah for Muslims should be self-assessment, and making firm resolutions for improvement in the new year.
"The Hijrah is yet another opportunity for Muslims, and indeed people of all faiths, to critically examine their previous activities in all spheres of life, especially the religious, moral and communal, and resolve to do better, aim higher and help more in the new year", the Chief Imam said.
While wishing Nigerian – and particularly Lagos Muslims – the best of the New Hijrah Year, Sheikh Abou-Nolla prayed for abiding peace in Nigeria, and sought Allah's guidance and protection as Nigeria proceeds towards the 2019 elections.
Also, the Baba Adini of Lagos and Chairman of the Lagos Central Mosque Council, His Eminence, Sheikh Abdul Hafeez Abou, also urged Nigerian and Lagos Muslims to seize the opportunity of the Islamic New Year to rededicate themselves to nation building and constructive civic duties, noting that actions such as those are no less important than overt Islamic duties such as Salat (prayers) and fasting.
"Since Muharram 1 is the Muslim equivalent of January 1, Nigerian and Lagos Muslims should seek its opportunity to reassess their contributions to the Nigerian project, and rededicate themselves to actions that will grow Nigeria and benefit her people. Such actions are equally as important to our Islam as our prayers and fasting", Sheikh Abou said.