Lagos – A high potency drug, Bovine Lipid Extract Surfactant (BLES), capable of accelerating the treatment of pre-mature infants suffering Neonatal Respiratory Distress Syndrome at birth, is now available in Nigerian healthcare system.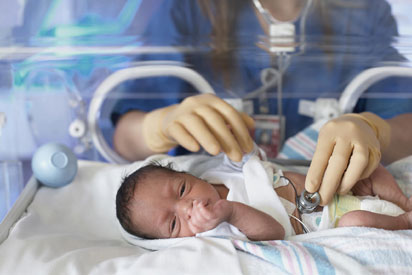 Dr Isaac Amos, the Managing Director/Chief Executive Officer, Thompson & Grace Pharmaceuticals Ltd. (T&G Pharma), made this known at the unveiling of the drug at the Canadian Deputy High Commission in Lagos.
Amos, said at the unveiling before a cross-section of paediatricians and other specialist doctors, that introduction of BLES was his company's vision to intervene in the complexities of Neonatal care and lack of life-enhancing medications.
According to him, with close to one million babies lost annually to pre-mature birth in Nigeria due to non-availability of relevant medication, relief appears to be in sight with introduction of surfactant into the country.
"BLES is targeted at saving the lives of Neonates who are very vulnerable at birth due to their precarious health condition.
"With BLES, there is greater hope for the Neonates in Nigeria," he said.
Amos reassured the doctors that the surfactant would be made available across Nigeria and even West Africa, at a cost less than 50 per cent of what they got it now, with the support of his partners and the government.
He further assured them that T&G Pharma would explore areas of collaboration with both States and Federal Ministries of Health to develop the skill and competence of doctors on the administration of BLES and other latest techniques in Nigeria.
BLES is manufactured by BLES Biochemical Inc., Ontario, Canada after extensive research by teams of international Paediatricians to treat Neonatal Respiratory Distress Syndrome.
Before its importation, it was registered by NAFDAC after it successfully carried out its General Manufacturing Practice (GMP) audit at BLES Biochemical manufacturing facilities in Canada.
In his short remarks, the Deputy High Commissioner of Canada in Nigeria, Mr Jamie Christoff, said: "The High Commission is a platform to facilitate trade between Nigeria and Canada.
"BLES is guaranteed to sustain the health condition of our children in Nigeria."
Dr Orlando Da Silva, a members of the research team that conceptualised BLES and Professor of Paediatrics at the Schulich School of Medicine & Dentistry, University of Western Ontario, Canada, said that Neonatology has transformed with the use of surfactant.
Da Silva outlined the benefits of BLES to include: "decrease in mortality, less need for ventilation, decrease in oxygen requirement, decrease in pneumonia which result in overall stability of patient."
Speaking, Dr Mariya Mukhtar-Yola, the Chief Consultant, Paeditrician/Neonatologist at the National Hospital, Abuja, said: "BLES can be a blessing to Nigeria, if it is affordable and accessible.
"We are assured of competence to manage the administration of the drug."
Also, a Professor of Paediatric, Emmanuel Ekanem, appealed to paediatricians to ensure they "bring down the rate of mortality in Nigeria by keeping surfactant in their Hospitals," (NAN)