By Vincent Ujumadu
AWKA—A CIVIL Society group, the Voters Rights International, has petitioned the chairman of the Independent National Electoral Commission, INEC, Professor Mahmood Yakubu over the recent purchase of the presidential nomination form for President Muhammadu Buhari by the Nigeria Consolidated Ambassadors Network, NCAN.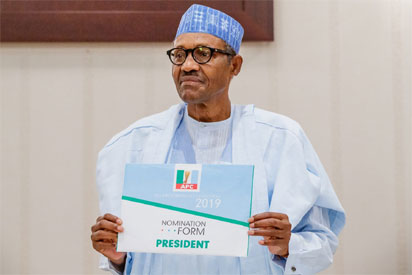 President of the group, Mr. Jezie Ekejiuba, who is a human rights lawyer, said his group would go to court to urge INEC to exclude APC candidate from the list of presidential candidates for the 2019 election because the APC nomination form was not purchased by any aspirant or human person qualified for election under Section 131 of the 1999 constitution as amended.
According to Ekejiuba, NCAN, which was an unregistered body that purchased the APC presidential nomination form, was neither a member of APC, nor an aspirant or human person capable of being sponsored by the political party under the Nigerian constitution.
He said: "Under section 131 of the 1999 c(as amended), especially Section 131(C) and Section 87(9) of the Electoral Act, 2010 (as amended), no aspirant or human person has yet purchased APC presidential nomination form till date of this petition to contest the 2019 presidential election.
"In other words, the APC presidential nomination process has not yet been activated and there cannot be a candidate by law without nomination process kick-started with valid purchase of nomination form by qualified aspirant or human person known to law."