Maiduguri – Gov. Kashim Shettima of Borno on Mondayordered All Progressives Congress (APC), stakeholders in the state to return to thier respective wards for the purpose of producing high number of votes for President Muhammadu Buhari on Thursday.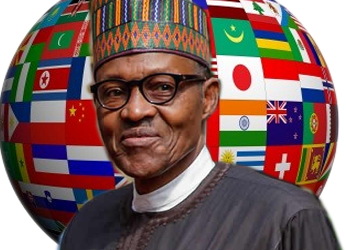 The stakeholders include deputy, national and state assembly members, state, local government and ward executives of the party, all past and serving government officials as well as party chieftains.
Shettima gave the order while swearing-in caretaker chairmen of the 27 local government areas for a term of six months at the government house in Maiduguri.
Shettima said that he was taking the Thursday's primaries seriously regardless of whether the President has opponent or not.
He said, "As principal beneficiaries of Buhari's administration" the Borno APC intends to produce an impressive turn out of voters in the direct primaries to demonstrate gratitude to the Presidency for its dedication to the fight against Boko Haram since 2015.
"Let me start by giving matching orders to all our 27 caretaker chairmen, that in addition to your constitutional duties of steering the affairs of your respective local government areas, your immediate assignment is to go back to your local government areas and effectively mobilise members of our party, the APC, to all come out en mass in their respective wards to fully take part in the Presidential direct primaries.
https://www.vanguardngr.com/2018/09/breaking-apc-expels-dep-chief-whip/
"We all know that our cherished President, Muhammadu Buhari has no opponent in the APC ahead of the 2019 election.
"However, as principal beneficiaries of President Buhari's regime, all of us in Borno State have obligations to line up and be counted for President Buhari's candidature.
"As leader of the APC, I will also go to my ward here in Maiduguri on Thursday and line up to be counted as delegate for the direct primaries. I expect all stakeholders to go back to their respective wards.
"In areas that wards are not accessible, arrangements should be made for alternative venues so that Stakeholders should lead party members to stand and be counted for President Buhari. I know most of us here have been doing some quiet mobilisation, it is time to do something different.
"Of course, I should acknowledge that together, we have done the most important thing in encouraging hundreds of thousands of our people to obtain their PVCs.
"However, before the main election, the APC in Borno State needs to make a bold statement by coming out in high number to demonstrate our loyalty and gratitude to President Buhari and to reaffirm the supremacy of APC in Borno State.
"We need to handle the Presidential primaries with all the seriousness it deserves irrespective of whether the President is standing alone or not. We are on ground with our people and we need to prove this.
"I will like to also request that during the Presidential direct primaries, all our members of party should display their PVCs to confirm their readiness for the reelection of President Muhammadu Buhari.
"As your leader, I will display my PVC like everyone, while I stand on the line during the direct primaries,"said Shettima.NAN
Subscribe for latest Videos