By Dayo Johnson
AKURE — The stage is set for a battle of wits in Ondo State as three prominent political gladiators vie for the Ondo North Senatorial ticket of the All Progressives Congress, APC.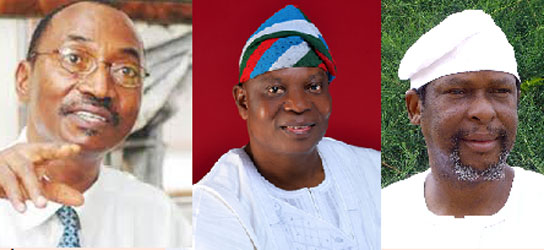 Human rights lawyer, Dr. Tunji Abayomi; the incumbent senator, Ajayi Boroffice; and former Speaker of the State House of Assembly, Victor Olabimtan, are the three men seeking the APC ticket.
Interestingly, Abayomi and Olabimtan are on the same page with the governor of the state, Rotimi Akeredolu as against Senator Boroffice, who heads a different tendency in the party.
Boroffice had been on warpath with the governor since 2016 when the two men contested for the governorship ticket of the party ahead of that year's governorship election, a development that led the duo to organize parallel primaries during the recent congresses in the state.
It is thus inevitable that the forthcoming primary will be organized along parallel lines with the governor's faction led by the state chairman, Ade Adetimehin opting for indirect primaries. The Boroffice faction led by Idowu Otetubi has opted for direct primaries.
With Boroffice sure of emerging from his faction, he has to contend with either Olabimtan or Abayomi, who will emerge from the governor's faction.
The governor is said to be undecided on who to support between Abayomi and Olabimtan.
Olabimtan is presently a special adviser to the governor while Abayomi is the chairman governing council of the Adekunle Ajasin University, Akungba-Akoko.
While Olabimtan has resigned and kick-started his campaign tour of the six council areas that constitute the senatorial district to canvass for votes, Abayomi is selling himself through his posters pasted on walls and houses in some communities in Akoko.
The contest is more interesting given that the governor is from the senatorial district.
Vanguard gathered that the leaders of the party, who have the ears of the governor are canvassing to him that fielding a political neophyte in the area would backfire on the party.
Contacted, the state chairman of the party, Ade Adetimehin said the party would ensure free and transparent primaries ahead of 2019 general elections.
Adetimehin, who absolved the governor of taking side with any of the aspirants, assured that the state chapter of the party would always promote transparency and not an imposition.
"We are products of a free, fair, and credible congress, and would, therefore, not promote or encourage imposition in whatever form", he assured.
"The party is working towards an all-inclusive level, where no one would be excluded. All the aspirants will test their popularity through indirect primaries," Adetimehin assured.