By Jeremiah Urowayino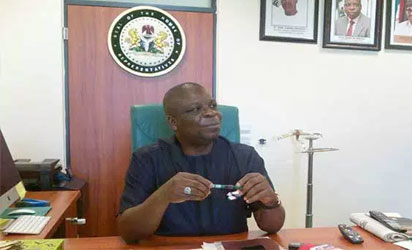 The lawmaker representing Warri Federal Constituency in the House of Representatives, Mr. Daniel Reyenieju has called on the management of Niger Delta Development Commission (NDDC) to as a matter of urgency, interface with the government of Edo State over its intention to establish a seaport in Gelegele.
This view was expressed yesterday in Warri when he received members of Koko Political Vanguard, who were on a thank you visit over his efforts at getting the Federal Government to commence the dredging of the Escravos Bar.
 Responding, the lawmaker noted that ''the proposed seaport in Edo State, can only be accessed through the rivers in Warri North Local government Council particularly through the Nanna Creek, Benin River and the Adagbrasa channel which link the riverine communities in Edo State to the Atlantic Ocean.
'' As a today, there is an ongoing mega road construction from Koko to Ogheye which is located at the estuary of the Atlantic Ocean. From my knowledge of the area which is part of my Constituency, the proposed Koko-Ogheye road will of necessity pass through the Adagbrasa Channel and a bridge will definitely be constructed across the Channel; and it is through this Channel that Gelegele in Edo State can be accessed.
''It is important to note that while the relevant drawings/designs and others paper works preceding the commencement of the construction of the Koko-Ogheye road were being prepared, the issue of a possible seaport in Edo State was never envisaged and thus, it was never captured in the different designs.  Under this circumstance,   a possible seaport in Gelegele will now require the redesigning of that part of the road.  I call on the NDDC to as a matter of urgency interact with the government of Edo State and make available to it the relevant drawings particularly those of the Adagbrasa axis. This should be done before the commencement of construction of the proposed seaport.
"The construction of the Koko-Ogheye road by NDDC commenced in 2010. Since then only about eight kilometers has been asphalted. Earlier, the leader of the group Mr. Daniel Nanna thanked the lawmaker for his untiring efforts in attracting development to the area.