By Chinonso Alozie,
Owerri – The Inspector General of Police, IGP, Idris Ibrahim, Friday said a computer application is being developed to ascertain number of suspects in police detention especially under the Federal Special Anti Robbery Squard, FSARS.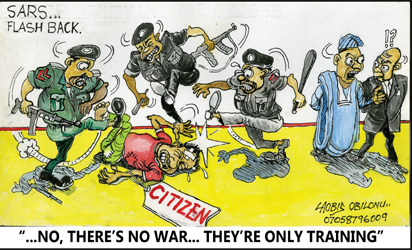 IGP, spoke in Owerri, through the National coordinator of X-Squad, Mr. Amaechi Elumelu, during an interactive session with the SARs unit of the Imo police headquarters.
Elumelu, said among other things that he came to Imo police command for inspection of the detention facilities of the SARS, as well as to let the personnel know the the new standard procedure of operation for members of FSARS.
Elumelu said: "There is need for medical evaluation and fitness for members who want join SARS, this is to ensure that they keep prudent relationship with the members of the public.
"That means, before any one joins SARS he must undergo medical evaluation and physical fittness.
"Also, a new standard procedure is being developed and again a computer application is also being developed, with this app, whenever you arrest a suspect you enter it into a computer system and it will send signals to the different authorities.
"And after 48 hours, an elert will be sent back to the unit asking why the suspect was still in detention. The reason, is to know the stage of the matter and why the suspect has not been released from police custody or taken to court."
As part of his finding he said: "I have gone round the cells under the SARs and I observed that there is a lot of things to do in improving the facilities. I also want the commander of the unit, to draw out a capacity building workshop that will equip members with the information to work effectively."