By Chioma Gabriel, Chris Ochayi & Dennis Agbo
ABUJA—FRIENDS of former Nigerian Ambassador to Spain, Mrs. Bianca Odumegwu-Ojukwu, yesterday picked a nomination form for her at the  All Progressive Grand Alliance, APGA, secretariat, Abuja, to run for the senatorial position for Anambra South.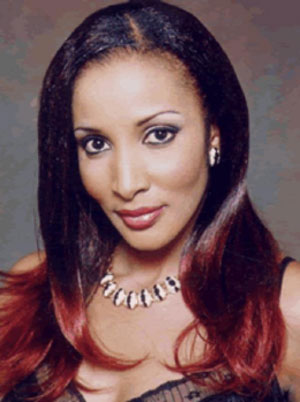 The  entourage which was made up of Hon Martins Ndujekwu, Comrade Peter Nwosu, Engr Chidi Anuligo, Chief Chukwuebuka Ileka and  other friends out of their own volition, put together the money and picked the form to the surprise of the wife to the late Biafran warlord,  Dim Chukwuemeka Odumegwu Ojukwu.
This came after  some members of Ojukwu  family vowed not to support her.
Vanguard had reported that Dr. Ike Ojukwu, the Director of Ojukwu Transport Company Limited at a press conference on Wednesday, said it would be a let down to allow a woman from Ngwo in Enugu State to represent Anambra South Senatorial District.
According to him, "the district has several prominent people."
Ojukwu asked: "Is she from Nnewi? She is from Ngwo in Enugu State. If you ask me, I would prefer someone who is a son of the soil and because I come from Nnewi, I would like an Nnewi indigene to represent us."
Also speaking at the press conference, Emeka Odumegwu Ojukwu (Jnr) said: "A young woman who was supposedly married to my father who is late; a young woman who could remarry tomorrow maybe from Abia State or later from Sokoto State. And you want her to come and represent us. I wonder if there are no other people in Anambra South that can represent us?
We'll meet at swearing-in, Onoh replies Ojukwu's children
Meantime, the paternal  family of Bianca Ojukwu has mocked the children of Ikemba Nnewi for their open attack on their father's wife, Dame Bianca Ojukwu for aspiring to run in the 2019 election.
Speaking to Vanguard, Bianca's brother, Dr. Josef  Onoh said that Ojukwu's children, particularly Debe who claims to be lawyer, were ignorant of Nigerian laws which they said they practised.
Onoh Jnr. who spoke from London on behalf of the late Chief C.C Onoh family of Enugu-Ngwo said the family was glad that Bianca's political ambition was now uniting their in-law's family to the extent of jointly addressing a press conference.
He however stated that in as much as the Onoh family did not enter into matrimonial contract with the Ojukwu children, but their father, they would want to put the records straight for their short knowledge.
Onoh said: "I, Umunnakwe handed over Bianca to their late father, Ikemba. I flew in from London under 24 hours just to hand her over to Ikemba because my father was not disposed and insisted I do that. Even the family's wedding gift, I was the one that presented it.
"Emeka Ojukwu Jnr is not in a position to talk on this matter because he is in  All Progressives Congress, APC. It is either Nnewi people, the Anambra South senatorial district or her political party, APGA (All Progressives Grand Alliance) that would have to decide who will represent them but I can assure our in-law's children that we will meet at Bianca's swearing-in ceremony."
Onoh advised Emeka Ojukwu jnr to field a better candidate than Bianca if he has one in his political party the APC, than subjecting himself to naked ridicule.
Restraining his emotion, Umunnakwe Onoh said "What their father, Ikemba, represented was beyond APGA but for Ndigbo because his was an ideology. For Debe to say that their father's wife is not an Nnewi indigene is a shameful exhibition of his ignorance of the law as a lawyer he claims. He is also not in touch with the reality of Nigeria constitution.
"The choice is with the people and not with an individual living in the glory of his father's fame. We had restrained ourselves from joining issues with Ojukwu's sons over our sister, not because our family is weak but because our contract was with their father.
"The Onoh family never gave out Bianca in marriage to Ikemba's children but their father and family values should be preserved over and above political interests."
Ifeanyi Ubah refuses to step down for Ojukwu's widow
In a related development,  business mogul, Mr. Ifeanyi Ubah, who was at the party secretariat yesterday to pick his Anambra South senatorial form said he will not step down for Mrs. Bianca Ojukwu.
Mrs Ojukwu is also seeking the same party ticket.
He told newsmen that he was sure he would secure the ticket and represent his senatorial district.
When asked how he would cope combining his businesses with lawmaking especially in view of the fact that he has not held any elective office before, Ubah said he has capable managers and that his experience is   needed by his people in the senate.
Ararume, Izunaso dump APC for APGA
Also yesterday, the gale of defections sweeping across political parties ahead of the 2019 general elections continued unabated as Senator Ifeanyi Ararume and immediate past National Organising Secretary of All Progressives Congress, Senator Osita Izunaso, dumped the party for All Progressives Grand Alliance, APGA.
The defection deal of both former senators from Imo State was perfected after the duo had a two-hour meeting with the national chairman of All Progressive Grand Alliance, APGA, Dr. Victor Oye at the party's national secretariat in Abuja.
Senator Ararume is a leading governorship aspirant in Imo State.
The two politicians who are in a running battle with the Imo Governor, Owelle Rochas Okorocha arrived at the party secretariat in Abuja to perfect their formal defection to APGA from APC.