by Moses Nosike
Considering the role of SMEs in economic development especially developing countries of Africa,  experts, SMEDAN and  stakeholders, came together in Lagos recently to chart a new course for SME funding in Nigeria during a business forum organised by Centre for Research in Enterprise and Action in Management, (CREM) on SME Funding in Nigeria: The journey so far.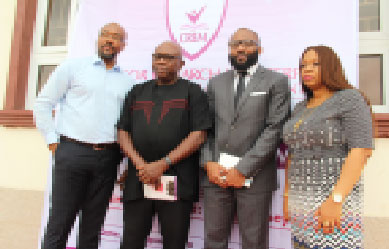 Lead discussant, Prof. Joseph Nnanna said that there is need for proper understanding of parties involved in SME funding in Nigeria so that desired results will be achieved at the end of the day. He said further that Nigerian case is different from what is obtained in abroad.
Dean, Noel Ihebuzor, (PhD) said, "SMEs play important role not only in sustaining the economy but in creating jobs, creating revenue space, and opportunities for families to take care of themselves. He said that by the very nature of the business, SMEs need funds and if the arrangement of these funds could be available to them, SMEs will go along way. Arrangement like structures, cash flows etc.
According to Ihebuzor, there are certain things preventing funds getting to the people who need it and that informed this discussion to identify those obstacles. He cited unfavourable government policy, improper implementation, accessibility obstacles etc. saying further that the instrument and vehicles to get money for SMEs should be made available if the sector must develop and contribute its quota in nation building. SME funding should not call for equity, collateral, but collateral, and he suggested that the banks should look into the segment of SMEs that need collateral and those that need not.
Continuing, Ihebuzor said that another obstacle against SME growth in Nigeria is multiple taxation which reduces the money SMEs get at the end of the day. If you have to pay tax in the local government, pay tax at the state level and Federal level, all of that is taking a plunge, so there is need for more clarity on taxation.
In addition to that, Director, Babcock Centre for Executive Development, Prof. Johnson Egwakhe in his view said that SMEs are drivers of economies and if we leave them behind, we are ruining that economy. However, he said that the issue of enablment  goes beyond providing the fund. He said that capacity building is most important to sustain their investment, because many of them with laudable ideas are still having the challenges of  how to push forward.
"I believe one with a great idea can source for fund outside the policy maker with zero interest to pay capital and grow business. I also believe that your family members can fund your ideas and pay back if you have to pay. Also I believe that if my idea is bigger than me and I have a market for it I can sell my personal property to fund it. I believe there should be other social entrepreneurs organising young people to get clustered and fund their ideas. There is no need rushing to micro-finance or running to commercial banks when you know the challenges.
In the same vein, Zonal Coordinator, SMEDAN South-West, Gbenga Ogundeji through his representative said that SMEDAN has developed a lot products to promote SMEs operation, among others is capacity building…