By Rotimi Ojomoyela, with Agency Report
ADO-EKITI—THIRTY-THREE days to his hand-over, Governor Ayodele Fayose of Ekiti State, yesterday, wrote the Economic and Financial Crimes Commission, EFCC, telling the agency to expect him as soon as his tenure expires on Tuesday, October 16, 2018.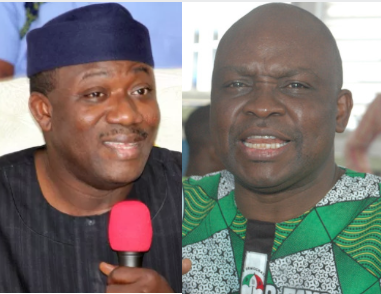 He also asked the State House of Assembly to approve a supplementary budget of N10 billion. The two moves elicited immediate response from Ekiti State Governor-Elect, Dr Kayode Fayemi, who described the supplementary budget as fraudulent and Fayose's letter to the EFCC as a decoy "to pull a surprise."
Specifically, Fayemi warned anyone who takes part in approving the supplementary budget of dire consequences.
 I'll make myself available to EFCC – Fayose
In the letter to the EFCC Chairman dated September 10, which he signed personally, Fayose, told the anti-graft commission that he has decided to make himself available at its office "to clarify issue(s) or answer questions on issues within my knowledge" after handing over.
Fayose hinged his decision to make himself available to the EFCC "on several and serial actions of your commission for some time now, including but not limited to freezing of my accounts and attempts to secure temporary forfeiture of my properties."
He said these were "indicative of the commission's desire to have me clarify some issues or answer some questions but for the immunity I enjoy under Section 308 of the 1999 Constitution as the sitting governor of Ekiti State."
He stated in the letter: "I wish to inform you that my term of office pursuant to which I enjoy immunity against investigation and prosecution under the above provision shall lapse by effluxion of time on Monday, October  15, 2018.
"As a responsible citizen of our great country, who believes in the rule of law, I wish to inform you of my decision to make myself available in your office on Tuesday, 16th October 2018 at 1pm to clarify issues or answer questions within my knowledge. Kindly confirm the suitability of the above date or indicate by return, the commission's convenient date."
A stamp on a copy of the letter, entitled "Notification of my decision to make myself available in your office to clarify issue(s) or answer questions on issues within my knowledge", indicated that it was received in the office of the EFCC chairman on Tuesday, September 11, 2018.
Governor Fayose, who has been in a battle of wits with the anti-graft agency and has also been in and out of courts with the commission over his personal and state's finances. The EFCC is investigating Fayose and Feyisetan, his wife, on allegations of money laundering.
 Presents N9.93bn supplementary budget
Meanwhile, Governor Fayose has asked the State House of Assembly to approve a Supplementary Appropriation of N9,926,527,772.86 (Nine billion, Nine Hundred and Twenty-six Million, Five Hundred and Twenty Seven Thousand, Seven Hundred and Seventy Naira, Eighty Six Kobo) to be spent before he steps down from power on October 16.
The bill which was dated August 30, has been forwarded to the House for urgent consideration.
Titled: "2018 Revised Budget," a copy of the bill which bears the governor's signature was made available to newsmen, yesterday. What the N9.93 billion would be expended on was still sketchy at press time.
The supplementary budget is coming at a time the controversy over the purchase of a 2018 Lexus Sport Utility Vehicle (SUV) as "parting gift" for the governor is yet to die down.
Transition Committee set up by Fayemi said documents from the Debt Management Office (DMO) show that Ekiti debt profile has risen from N18 billion when Fayemi left office in 2014 to N117 billion as of March 2018.
The supplementary Appropriation Bill was received at the office of the Clerk of the House of Assembly, Mr. Tola Esan, on Monday September 10, by 3.40pm.
The lawmakers who have been on recess since July 16 have been asked by the governor to work on the request and pass the bill "as early as possible."
It was gathered that Speaker Kola Oluwole has reached out to some members of the Appropriation Committee and work has commenced on the bill.
An Assembly official, who craved anonymity, said that "the lawmakers are to work on the bill and pass it quietly within the shortest possible time.
"To this end, the usual parliamentary procedure of First and Second readings have been side stepped as the committee members are to sit to approve the bill ahead of the deadline given by the Governor."
A document attached to the 89-page budget prepared by the Ministry of Budget, stated that the approved estimates for 2018 stood at N98,611,545,040.66, while the revised estimates sent to the Assembly stood at N108,538,072,813.52.
 Fayemi kicks
Reacting, Dr Kayode Fayemi described the supplementary budget as an attempt to defraud the state, warning that the consequences of illegal appropriation of public funds will be very grave for individuals who participate in the illegality.
Fayemi counselled the ministry officials and lawmakers against being used for illegal appropriation of public funds, warning that participants in such illegal act will be called upon to account for their actions when the new administration takes off on October 16.
On Fayose's letter to the EFCC, Mr. Wole Olujobi, spokesman of Dr Fayemi, said the outgoing governor was not sincere.
Olujobi told The Cable that the letter is a decoy "to pull a surprise", that Ekiti people are wise and would not be deceived by Fayose's "ostrich game."
"If you know Fayose very well, when he makes any declarative statement, that people would have thought he means business, I am telling you it is another ploy by him to do otherwise. When he wanted to escape in 2016, he went round the whole capital city of Ado Ekiti, asking his supporters to meet him at Fajuyi area of the town for a rally. His supporters mobilized themselves to Fajuyi expecting Fayose. The next thing they heard was that Fayose had escaped while his supporters that he called for a rally at Fajuyi area were anxiously waiting for him.
"So, we don't believe he is sincere about the letter he wrote to the EFCC, its another kind of decoy to pull a surprise."
 APC reacts
Also reacting, the APC in Ekiti State, described Governor Ayo Fayose's readiness to appear before the EFCC as a welcome development, warning that this may be a decoy, knowing Fayose is full of pranks and capable of playing tricks on the EFCC and other security agencies.
The party, through its Publicity Secretary, Mr. Taiwo Olatunbosun, said "the letter to the EFCC can be used by Fayose as a diversionary tactics to pave way for his escape from the country, thereby running away from justice.
"We therefore recommend that he be put under close surveillance, since he is morally and duty bound to account for many of his recklessly corrupt practices that have made him far richer than the state."