By Benjamin Njoku & Rotimi Agbana
Nigerian entertainers have expressed shock over the sudden demise, Sunday, of Efemena Okedi, wife of late reggae legend, Ras Kimono.
Efe's demise came one month after her husband was buried. Incidentally, she died on a Sunday, same day as her husband.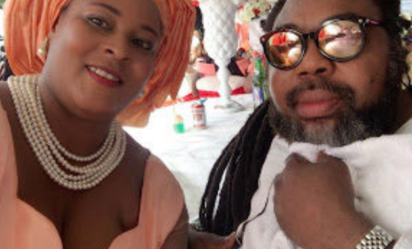 Paying tribute to the deceased on his Facebook page, reggae star, Righteousman, wrote: "What is going on? Another black Sunday. I am speechless."
A veteran broadcaster, Bisi Olatilo, said Efe's death was a sad development to the entertainment industry, coming months after the demise of her husband.
He said the news came to him as a shock and was a sad thing for the Nigerian entertainment industry.
His words: "What a sad time for us. We have not come to terms with Ras Kimono's death, only to be shocked by the loss of his wife again.
"She was hale and hearty from my last observation and I had no reason to think that she will give up the ghost soon."
Gospel singer, Nikki Laoye, said: "I am still shocked by the sudden sad news of Efe's death. It breaks my heart. It really makes no sense. I am yet to face the fact that our dear uncle, Ras Kimono, is gone.
"I even refused to acknowledge his passing away till date, because I was with him a few days before he passed on.
"He was a great legend that I loved dearly, alongside his beautiful wife. God knows best and I pray that God's loving arms would continue to surround the family at this time and always."
Also, expressing grief over Efe's demise, Alariwo of Africa described it as strange.
He said: "I am speechless because it's strange. Kimono died on Sunday and she also died on Sunday. The similarity or uniqueness is confusing to me. One thing I know for sure is that they loved each other.
"I don't know what could have been the cause of her death, only God knows. My concern is how her five-year-old daughter, who hardly knows her mum, would survive without her parents."
One of Fela's daughters, Motunrayo Anikulapo-Kuti, said: "I am just hearing about this from you. How did it happen? I'm sure she felt overtly depressed about her husband's death."
Efe reportedly complained of a chest pain on Sunday and was rushed to the Lagos State University Teaching Hospital, Ikeja, where she died.