By Yinka Kolawole
The Minister of Industry, Trade and Investment, Dr. Okechukwu Enelamah,  has  called for active collaboration between the private sector and the government.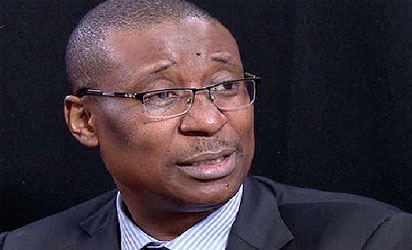 Speaking to the delegation of the Organised Private Sector (OPS) led by the Lagos Chamber of Commerce and Industry (LCCI), he noted that the long-term objective of nation building can only take place when there is synergy between the government and the OPS.
He stated: "Nation building is collective and a long-term process that needs to be approached with humility by all involved. For that to happen, there needs to be active collaboration between businesses and the government."
Speaking on behalf of the group, the president of the LCCI, Babatunde Ruwase, appreciated the minister, who is also the vice chairman of Presidential Enabling Business Environment Council (PEBEC), for his sustained intervention across Ministries, Departments and Agencies (MDAs) to make industries and the economy operate more efficiently.
Ruwase said the business leaders were at the Ministry to present a report on the country's maritime ports, noting that the report entitled, "Nigeria: Reforming the maritime ports", was a collaborative effort led by LCCI with support from Centre for International Private Enterprise (CIPE). There were also contributions from the Nigerian Economic Summit Group (NESG), Manufacturers Association of Nigeria (MAN), Nigeria Employers' Consultative Association (NECA), Nigeria Association of Chambers of Commerce, Industry, Mines and Agriculture (NACCIMA), Nigeria Association of Small and Medium Enterprises (NASME), and Nigerian Association of Small Scale Industrialists (NASSI).
The report acknowledged ongoing reform measures currently being implemented by the Buhari administration in the ports, outlined some ports reform measures that yielded positive outcomes in other countries, while suggesting short, medium and long-term measures to reposition Nigeria's maritime ports.
Ruwase stated: "We believe that the success of the ongoing reforms in the port is largely predicated on the buy-in of all stakeholders, political will of the presidency and the Presidential Enabling Business Environment Council (PEBEC) through active and sustained enforcement, monitoring and sanctions when necessary."
In his response, the minister thanked the team for their efforts in preparing and investing on the report and assured them of government's commitment to ports reforms, noting that "Trading Across Borders" is a key plank of PEBEC's reform efforts. He assured the stakeholders that the government will study the submitted report and take necessary actions.
"We want this engagement between the government and the private sector to continue. There needs to be an active collaboration and we are here to help," he said.