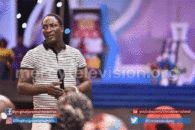 The presiding prophet of Christ Mercyland Deliverance Ministry, Warri Delta State, Prophet Jeremiah Fufeyin has called on pastors and prophets in Nigeria to be careful with prophetic assertions as regards the forthcoming general elections.
He cautioned prophets to guard their grace with pride, so as to prevent any unusual disgrace. He made this submissions recently in Warri, Delta State while reacting to the recent prophesies from several men of God to politicians and aspirants that say victory is ascertained when God has not said so.
Prophet Jeremiah stated that political prophesies must not be one-on-one consideration to attract goodwill from politicians. He warned men of God to be careful and respect the faith, instead of putting their grace on the line, as well as subjecting the faith to shame.
Ahead of the 2019 general election, many prophetic pastors have been revealing 'what God told them about the election'. There were also such prophecies during the recently concluded July 14 governorship election in Ekiti State. It would be recalled also that before the 2015 general elections, there were series of prophecies and counter-prophecies on who would win or lose the presidential election.
According to prophet Jeremiah, prophecies are from God. So pastors and prophets who use their discretion under the umbrella of prophecy, encouraging aspirants that they will win, might be disappointed when God decides to chose another against their self determined prophecy.
However, the recent increase in prophesies from pastors and prophets to aspirants in elections exercises have raise series of reactions, as to if these prophesies are from God or man-made.
The principled and disciplined Prophet Jeremiah of Christ MercyLand Deliverance Ministry (CMDM), also stated that it is hard labour for men of God to manage and nurture political prophecies in Nigeria. He therefore called on men of God to refrain from activities that are not under the principles that guides the spiritual calling while calling on the general public to remain steadfast in the Lord and do the right thing to attracts God's favour and mercy.