…Not true- Commissioner
By Rotimi Ojomoyela
Ado-Ekiti-A section of Ekiti State workers under the auspices of Enlightened Workers Forum (EWF) have accused Governor Ayodele Fayose of spending N3 billion on chartered flights across the country in pursuit of political and personal affairs.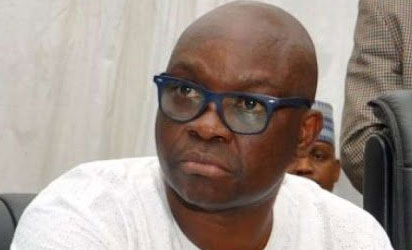 The angry workers alleged that Fayose spends N26 million of state funds monthly on chartered flights which "has dug a big hole in the Ekiti treasury."
The EWF in a statement on Saturday by its Coordinator, Mike Bamidele, lamented that this usual habit of the Governor which according to them, constituted no significant value to governance in the state, has become a burden on the state finances
The workers' pressure group alleged that Fayose junkets to Abuja, Lagos and Port Harcourt "where he has personal and political interests leaving governance to suffer abysmally at home in Ekiti."
The statement reads in part: "We are in possession of evidence of how the governor frequently flew members of his family and women of easy
virtues in and out of the state and to locations, where he spends weekends and usually holidays with his associates.
"For 47 months, the governor was said to have made countless trips and checks at aviation hiring companies were said to have revealed a mind-boggling accumulation of flight time logs that runs into a
monthly average of N26 million Naira.
Comprehensive checks at aviation companies, showed that a jet costs about 2,500 Dollars per hour and a round trip costs around $20,000-$40,000 (dollars) depending on the whims of the client, who
sometimes delay planes for hours to conclude their affairs.
While reacting, the Commissioner for Information, Mr. Lanre Ogunsuyi, described the allegation as a "figment of infantile imagination of EWF."
Describing the EWF as "unenlightened," Ogunsuyi as untrue. He said the group was only playing to the gallery to please the opposition which he described as its political paymasters.
"The allegation is untrue, does the governor charter plane to everywhere he goes every month? We are waiting for their so-called evidence to prove their allegations."