Satisfied with the serene benevolence splendor displayed by a member representing Anambra east constituency in the state, Hon. Pharm. Obinna Chris Emeneka ( Ijele Omabala), his Imperial Majesty Igwe (Dr.) N. N. Kelly (Okalakwu Igbariam) and the Anambra state Commissioner for Housing and Urban Renewal, Engr. Emeka Ezenwanne on Thursday, praised Obinna enthusiastically and unanimously tasked other public office holders to emulate his good works.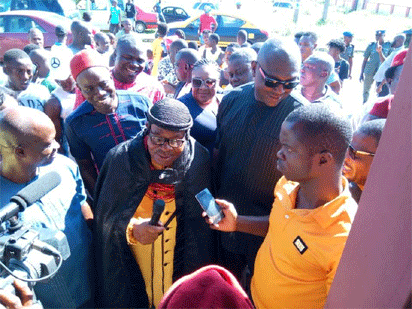 Hon. Obinna who built a magnificence market at Eke-edo in Igbariam community, saw mammoth crowed in attendance during the commissioning of the project, lauding and consciously extolling his recorded gestures in the community.
Speaking at the brief ceremony, Anambra state Commissioner for Housing and Urban Renewal Engr. Emeka Ezenwanne described the Project as a good legacy that is worthy of emulation by other public office holders in Nigeria.
In his appreciation remark, Igwe Kelly eulogized Hon. Emeneka, describing him as a representative that Anambra East is proud to have. The Monarch charged the outstanding Legislator to keep up to his good works and prayed God to continue to bless him in all facets of his life.
The Town's President General, Women President General, Speaker Irunabo Igbariam, Youth Leader and other Community Leaders all took turns to praise and pray for God's unlimited blessings upon Hon. Emeneka. They described Ijele Omabala's philanthropic gestures to Igbariam as writing his name in gold not only in Igbariam community but Anambra East at large.
In his response, the quintessential Legislator thanked the Traditional Ruler of Igbariam, the President General, the Community Leadership and all who contributed justly to the successful execution of the Project.
He thanked God for the opportunity afforded him to touch the lives of his people, and promised to continue to touch the lives of his people whenever he has the opportunity to do so. He also thanked all who made out time to be at the occasion describing their support for him as unprecedented.