By Evelyn Usman & Victor Arjiromanus
It was end of the road for three dismissed soldiers alleged to be members of a robbery gang that specialized in hijacking trucks on the nation's highway and diverting same to different parts of the country where the goods were sold to ready buyers.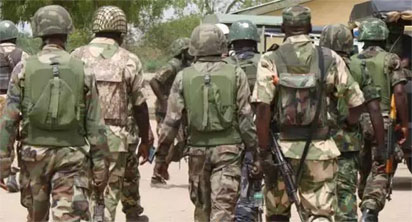 Members of the gang as gathered usually stood on the way, pretending to be military men.
They would flag trucks down and demand to see the documents only to attack the driver and motor boy and hijack the truck.
The five-man gang as gathered, flagged down a Kano- bound Sterling truck with registration number LSR 266XW, that was laden with groundnut oil valued at N13, 250.00.00, at Ijebu-Ode, weekend.
The suspects were alleged to have pushed the truck driver and his conductor out of the truck and diverted the truck towards Epe/ Lagos road.
Explaining how they were arrested, the Commissioner of Police, CP, Lagos State Police Command, Imohimi Edgal, said "as the driver and conductor were trekking towards Epe Lagos, they came across a policeman and narrated their ordeal to him.
"The policeman contacted some of the police stations along the route taken by the robbers. At about 2230 hours, policemen on stop and search duty, saw the truck coming and intercepted it.
"In the process, two of the suspects, Monday Ayele (42) and Esowanne Emeka (30), were arrested."
During interrogation the CP said the suspects mentioned the three dismissed soldiers from the Nigerian Army and Nigerian Air force : Lance Corporal Moses Johnson -13 NA /69/8811; Lance Corporal Akintola Abiodun (25) (Airforce ) and Corporal Osegbu Chidi , as members of their gang.
However, preliminary investigation revealed that Chidi was an impostor , as he had never been enlisted into any of the Armed Forces.
The truck and goods according to Edgal, were recovered intact, saying "The good thing is that we have been able to establish that the gang leaders are dismissed soldiers because members of the public have been sending reports that their trucks were hijacked by soldiers.
"Now we know better that they are dismissed soldiers."
One of the suspects, Johnson, however denied having anything to do with the hijack of the recovered truck, noting "I was dismissed in 2015 for not prosecuting the Boko Haram war in the North. But government is considering recalling us that is why we held on to our uniforms.
But while waiting, we decided to go into escort of goods to raise money to feed our families. One of our friends, Onoja, called me to assist him escort his goods. We were arrested in the process of escorting the goods. We are not criminals, we were only trying to eke a living through escort."
The suspects according to the CP would be charged to court.