…as sector loss rises by 16% in August
By Prince Okafor
Inadequate gas  supply to the generating plants and limited distribution facilities have resulted in the cumulative loss of N108.15 billion in July and August, 2018.
A compilation by Vanguard, based on reports obtained from the office of the Vice President, Prof. Yemi Osinbajo, showed that a total of N50,082 billion was lost in July while N58.07 billion was lost in August, 2018.
Specifically, in July, it showed that the highest loss of N1.91 billion occurred on July 14, 2018, while N1.177 billion, the lowest occurred July 3, 2018.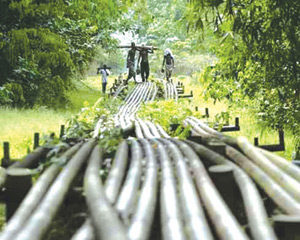 In August, it also showed that the highest loss of N2.154 billion was recorded on August 21, 2018 while, the lowest of N1.618 was recorded on the first of the same month.
Investigations by Vanguard showed that the loss affected the capacity of Electricity Distribution Companies, DISCOs, and Electricity Generating Companies, GENCOs, to provide stable power to consumers.
Constraint
According to National Operational Report, NOR, GENCOs were confronted by constraints, which prevented 100 per cent evacuation of the energy generated to the national grid.
It stated that the constraints included gas supply due to unavailability of gas; transmission due to unavailability of transmission infrastructure; distribution due to high frequency resulting from the unavailability of distribution infrastructure and water due to water management.
In a document sent to Vanguard, Sector Lead, Distribution Power, Advisory Power Team, Office of the Vice President, Morakinyo Beckley, stated: "Essentially, this revenue represents what GENCOs could have earned in addition to their current revenue stream from the electricity market if these constraints were mitigated or did not exist.
"Projects undertaken by TCN, to improve and stabilise the energy provided by the grid is ongoing and currently can evacuate approximately 7,000MW while available capacity for generation companies (this being the total capacity of turbines that generation companies have in active use and can generate to send out energy to the national grid in the absence of constraints) is approximately 8,300MW."
Losses in 8 months
Vanguard gathered that from January 1, to September 5, 2018, total revenue loss due to inadequate gas amounted to N223 billion, while N15 billion was lost to due to water management.
Also, the GENCOs lost N117 billion as a result of high frequency and line issues resulting from the unavailability of distribution infrastructure, thus denying the GENCOs an opportunity to earn N356 billion between January and September 5, 2018.
It was also learned that a total of 740,629MW of electricity was not supplied to households, due to the unavailability of gas, water management and high frequency.
However, a further breakdown showed that gas supply constraints accounted for a lion share of the opportunity cost of revenue lost to undelivered capacity at 63 percent followed by constraints from the unavailability of distribution and transmission infrastructure at 33 percent while constraints from water management contributed four percent, apparently the least.
Commenting on the development, Beckley said: "In consideration that 70 percent of the available capacities of generation stations are from gas plants, a high level of constraints experienced for gas supply automatically results in electricity supply hiccups across the Nigerian Electricity Supply Industry, NESI.
"Currently, the government has commenced policy harmonisation initiatives to reset the NESI with the Power Sector Reform Programme, PSRP, and is expected to result in a capacity match of the value chain from gas supply to generation to transmission and to the distribution of power. The reset has a primary objective of ensuring an emergence of an efficient electricity market independently supervised by the regulator, Nigerian Electricity Regulatory Commission, NERC, by 2021."
TCN advice
Meanwhile, Managing Director, Transmission Company of Nigeria, TCN, Mr. Usman Gur Mohammed, stated that investments in TCN's grid expansion, would only impact positively on the social well-being of the benefiting communities if the distribution companies in the affected areas also make a commensurate investment in their networks.
According to him, "investment in the distribution network is essential because no matter how much TCN puts into expanding its capacity, the only way consumers can derive maximum benefit from the investment is when corresponding investment is made in the distribution networks.
"Several projects are currently on-going in its network nationwide and re-affirmed its resolve to continue to pursue and implement the incremental power policy of the Federal Government by consistently investing in capacity expansion initiatives through its Transmission Rehabilitation and Expansion Programme."